Apr

19
Tags
Related Posts
Share This
In Depth With… Vibe Killers
Vibe Killers are fast becoming a household name within the tech house scene, having quickly gained support from such names as Jamie Jones and Richy Ahmed amongst others. Alongside delivering stellar productions, the duo also run their own imprint, which is just one of the subjects we touch upon in this In Depth feature. Check out what the Burnley duo had to say below…
Hi guys, hope you're both well? So who are Vibe Killers, where did the idea stem from and what is it you set out to achieve with every production?
Hi mate. Vibe Killers was dreamt up in Ibiza a few years ago. Were always taking the piss and having a laugh, and the name kind of does this in my opinion. We don't take ourselves too serious and think the name is funny but cool too. Production wise, we were making music as Horsey Brothers but it was more housey stuff, Vibe Killers was created with an aim to make more tougher stuff and break away from our previous sound.
Has music always been something that is at the forefront of your life, is it now a full time job for you? If not, how do you manage the time between different aspects of how you spend your days?
Always mate. I remember the first tape we bought, it must have been around 1996, it was  laurent Garnier and we loved it. Then we were into hardcore, then electro, then listening to Pete Tong on the Radio had us drifting towards House & Techno and its been that way ever since. Were not at that stage yet where music is our full time job, so were currently juggling owning our own business' as well as making music and running 3 record labels – were also lucky enough to be getting some bookings now which is what its all about for us.
Who have been your biggest inspirations to become Vibe Killers? Is there one track that has been a real catalyst in what you create?
I guess it would be easy to say the big names in the game, so we won't. Its been good to see Max Chapman grow more and more each year, the music he's putting out now is mint, and the fact he got flown out to Ecuador recently for Boiler Room just shows how popular he is. Were really buzzing off some of the artists coming up at the moment –  Jacky, Solardo, Lee Walker, A Lister, Leftwing & Kody, Mirko Di Florio and loads more. Were big fans of Jozef K too, we used to go see him play in Sankeys Manchester years ago, and to now see him flying off to China for gigs, as well as being resident DJ for sankeys in London and Ibiza is mint – Its just another day in the game for him though, he's a true professional and awesome selector!
Let's take a jump into your studio, what is your current set up? Looking back over the years how has it changed for you?
It started with fruity loops and a windows laptop ha ha! now were running it all off Mac, we use ableton and Logic, we've had various bits over the years – Juno 106, MS20, Moog Slim Phatty, Maschine which we use a lot, MPC2000, Yamaha TX81Z, and we buzz off our Roland TR8 & System 1. We recently bought a SH101 too which is mint. We also have 2 technics 1210s and a Allen & Heath Mixer. Mickey has a nice vinyl collection too.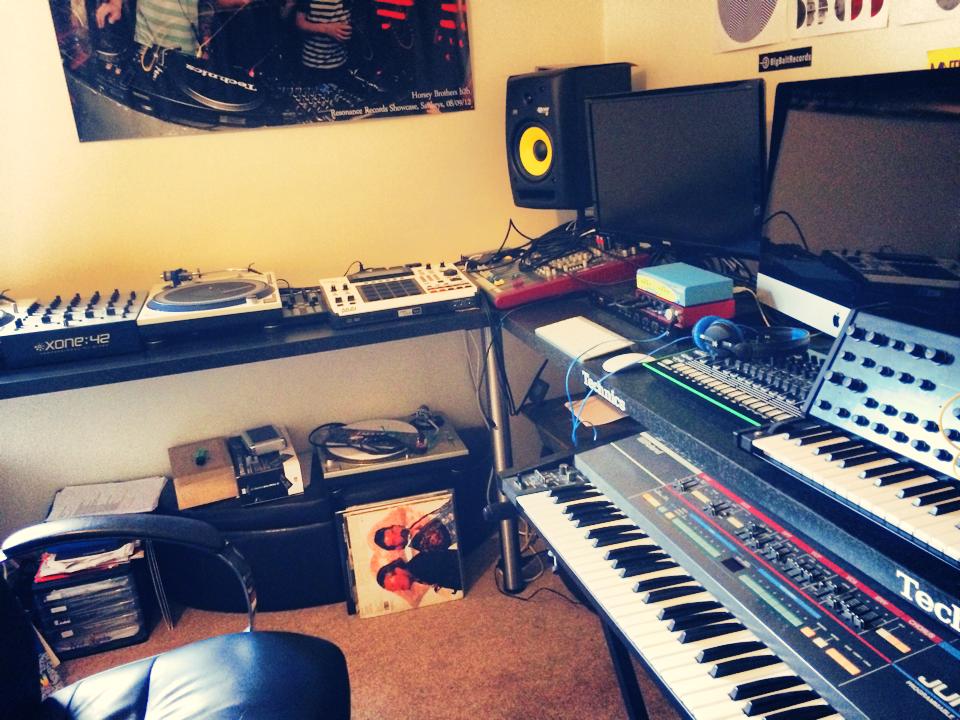 When working on a production, how does it go down? Working as a pair do you both take on different roles in which you feel strongest? What would you say each others strengths are?
We just get in the studio, fire everything up, get some drums going and kind of take it from there. Mickey definitely knows his way around the kit more than me, i had an idea of sampling a vocal from Mobb Deep on a recent track which sounds wicked! We also made an edit of Black Box – Ride On Time and stuck it on Soundcloud as a free download – the response to it has been mint. We just keep it simple in the studio, and it seems to work for us.
You have set up your own imprint Killer Vibe Records, did this idea come before Vibe Killers, or was it an offshoot of this recent project? What is the reasoning for its creation?
It was an offshoot pal. We were making this music, sending it to labels and hearing nothing back. So we just thought 'you know what, fuck it, lets release it ourselves'. It seems to have done the trick, we've had massive support off names we never thought would play our records! Artists like Pirupa & Cuartero inboxing us for tracks is next level for us.
The most recent release featured two originals from you guys, but also a remix from DJ W!LD. How did this come about and can we expect any other guest names on the label in the future?
I worked with DJ W!LD on a previous project when i ran Resonance Records. The release prior to this we had Andrea Di Rocco remix for us and it went down really well. It opened us up to a wider audience – so thought we would tap DJ W!LD up and see if he was up for it. Were just putting together Vibes Vol. 1 which is going to be tracks from artists we admire in the game – its dropping around July.
Do you feel that running a label on the side has effected you as artists? Does it come with both positives and negatives?
Obviously running a label comes at cost. Theres the mastering, PR, artwork etc etc which could be a negative, but thats the way it is. Its good fun running the label and were in full control of what happens with our music. Another positive is the amount of contacts gained by running the label, which are priceless.
For a relatively new name within the scene you have managed to land some pretty strong gigs, especially in London, playing the likes of Egg and Ministry Of Sound. How does the future look regarding gigs? How does a live show work for you, is it a simple b2b or do you change it up at all?
So far so good! Still to come were playing at 93 Feet East in London for a daytime party, then were up in Middlesborough for Riffraff which looks like a mental party, then were being flown over to Cyprus for a boat party too! We've recently been taken on by Underground Artists which was buzzing news for us, Kal and Josh really work hard for their roster, and deal with the bookings for some pretty mint artists. Ministry of Sound was amazing for us, we've bought their CDs since we were young and just getting into music, so to play there was a real dream come true. When were playing out, its just one track each B2B throughout the set mate.
Where do you see the label going in the future? Is there another label out there that you would compare yourself to at this current time, and one that you aspire to become? What is it about these labels that make them special in your opinion?
We really don't look too far into it all to be honest. We just take it one release at a time. Momentum keeps building up as each EP goes out, so we just want to keep building on that. Theres so many big labels out there now putting out some really good music, its hard to compete. Killer Vibe is just  a platform for us to release our music and music from artists we admire.
You have gained some great support from a number of heavy hitters out there playing your tracks around the world. How beneficial is it for you when these guys play your music? Who has been the biggest artist to drop a Vibe Killers track? Is that a standout memory for you?
Its massive man. Theres a few standouts from last year. Jamie Jones played Some Bang at Tomorrowland Festival and then again at his Paradise Party at DC10. Richy Ahmed played it at Amnesia and our mate was there so got the whole thing on video. Another big one was when i was at work on a saturday, i went onto the radio one website to check out Pirupas Essential Mix, started scrolling through the tracklist and found our track Busy in there! Ive listened to the Essential Mix for years, so to have one of our tracks on there is massive for us. I messaged him to thank him, he then asked us to remix for his label which we've done and is coming out soon.
It has been a strong year for you both, where can you see the next twelve months taking you? What is the next milestone goal for you to achieve?
Thanks! The main target for us really is to get more gigs, and we think in order to do that we have to keep releasing music which people like, so its kind of keep doing what were doing. We have a great manager now called Simon from Komplete Music Group who's been advising on us which labels our music should be going to, as well as helping with all sorts of other bits – so hopefully its a matter of time before we get some more shows booked in (bookings@underground-artists.com if you fancy it

)
Thanks for you time guys, I expect to see alot more from you in the future!
Vibe Killers' 'Control Freak' EP is now and available to purchase here.