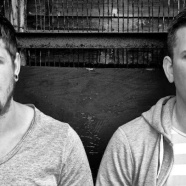 Oct

25
Tags
Related Posts
Share This
60 Seconds With… Vibe Killers
UK production duo Vibe Killers are next in line for 60 Seconds With having just released a monster EP 'Underground' on their own imprint of Killer Vibe Records.
So your Underground EP is out now on your own label Killer Vibe, tell us a bit how you went about creating these two tracks and what you set out to achieve?
Hi mate, we don't tend to go in with anything to achieve other than hopefully finish a track! We have a mess around with the TR-8, fire up Maschine and see what happens, sometimes it turns out well, sometimes its doesn't!
The two tracks are quite different to one another, this is apparent for the majority of your EPs, why do you tend to have a variation with the tracks?
Again, its just kind of what comes out. sometimes we go in and the track comes out banging, sometimes it's more mellow and housey. We contemplated having an alias to release the more housey stuff, but thought the b sides to our label would do the trick!
So far it has been picking up a lot of love, I've seen the lovely B Traits dropped it on Radio 1, how does it feel, especially for a relatively new project, to be played on such a substantial outlet?
Amazing mate! We've listened to Radio 1 since before we even had decks, djs like Pete Tong, Seb Fontaine and Judge Jules got us into searching for vinyl at the weekend with our spending money. We're hoping for some chart action on this one, but it's so tough nowadays we aren't getting our hopes up too much.
Alongside the production you obviously have your label, Killer Vibe Records. What came first for you, was it the producing or business side?
Producing mate, its so hard to get people to listen to demos now, they get sent tons – I've had experience of this through running Resonance Records and Inner City records. so we just thought release it ourselves and see what happens.
Will you be signing any other artists on the label?
We've just asked Andrea Di Rocco to remix a track for our next EP on Killer Vibe which is out in December, we're looking forward to seeing what comes back. Then I think we will try get more remixes, but keep originals for our own material.
Do you find that working as a duo gives you an upper hand against someone who is a solo artist?
I think both have a plus and negative – its good for us to have 2 brains working on something, but at the same time we both have to be happy with the outcome – and both available to work in the studio, we both run business' too and have a son each, so spare time is a hard thing to have! I think it's definitely more fun working with someone though.
Do you ever find yourselves having conflicting ideas in the studio, how do you work around this?
We don't to be honest pal, we work together until we're happy.
When you're DJing, do you both take on separate roles for the gig, who is the best at what?
When we play, it's just one track each back to back for the whole slot. I (Mark) tend to have more influence on whats played though. We've been mixing records for over 16 years now so mixing comes natural to us now. We've played Sankeys Manchester main room, Sankeys Ibiza main room, Pacha in London, Gorilla in Manchester and more.
Staying with the live theme, what do you have coming up, where can we catch you guys playing and what can we expect from your set?
We're playing for our friends Audiowhore at Mint Warehouse on 21st november which we're really looking forward to, we do our own 'secret' parties in our home villages too so we got one of them coming up in some old barn with a Void Soundsystem, and were also booked to play Ministry of Sound for Rinse on 26/03/16 – proper buzzing for that one! What to expect from our set? House and techno bro!
Are there any upcoming artists out there who have really grabbed your attention over recent months?
Leigh D Oliver's productions are spot on every time, really nice house music! Really like Detlefs stuff too. Theres so many good artists out there at the moment, our Beatport cart is always full.
What would be your top track to play for an opening set, and also your top closing track? PIcture 7am vibes at DC10 for example.
We used to warm up Sankeys bar area a few years back, they would fill that space up before opening the main room. We always used to play 'Jimpster – Dangly Panther', it always seemed to work well. 7am vibes at DC10 would have to be 'Maya Jane Coles – What They Say (Dyed Soundorom Remix).
Finally, is there anything that you would have done differently when you look back over your time as Vibe Killers?
I don't think so. Vibe Killers is relatively new, we've been working on this music for 16 months and we don't even have our first gig till the one for Audiowhore next month – so its just a case of keep doing what were doing.
Underground is out now, pick up a copy here.