May

09
Tags
Related Posts
Share This
In Depth with….Soul Clap
Soul Clap have emerged as one of those mystical acts that are able to match their DJ skills, with their crate digging expertise and equal both of these in the studio cooking up their funk heavy house and disco jams. The super group they have formed out of their various labels – Crew Love is a force to be reckoned with and we caught up with their spiritual leaders – Eli & Charlie to get the low down on what they have up their sleeve this year and what they have been up to until they make their UAE debut for Plus Minus….
What has been happening of late Eli?
My wife's family is from Venezuela, so I am down visiting at the moment. As the country doesn't get much in the way of visiting artists its nice to give something back. We don't normally play separate gigs but we sometimes feel the need split up to spread the love.
How has your year been so far?
It has been pretty mellow so far, but every year during February and March we head to Miami to get some down time and also get in to studio and work on new material. It's also perfect for working that in to WMC where we had our own Crew Love party, which was awesome.
How have you noticed WMC changing over the last few years?
We have been coming to Miami for the last 15 years and when we first started the music was very soulful and then later the European sound came in with huge influence from Get Physical and Crosstown Rebels, the parties at that time was Sunday School for Degenerates and Get Lost at Electric Pickle. Now, the music is so popular with Ultra taking over the whole thing, even more underground artists are now playing at these bigger parties. There is still a great scene there, especially with Electric Pickle, where we had our own Crew Love party and we usually play the closing party too. It's always fun and we always love going there.
How did you find the general vibe WMC compared to previous years?
The general vibe is that most of the people that are really in to the music don't really go to WMC anymore. We are lucky that we have a really strong Florida and Miami fan base, but I think there is a lot more competition in North America now, especially with Movement and new festival; SSX festival popping up.
Did you get the chance to catch any of the other parties while you were at WMC?
This year was crazy with us doing 7 sets over the course of the week, every Wednesday of WMC we have our own party; Catalina Wine Mixer, which is a very tongue in cheek party based on the Step Brother movie, we had Doc Martin playing a fucking awesome disco and classics set, then for our closing party we had Tony Humphries playing.
You also have Coachella just around the corner, do you have any pre-conceived ideas about the festival?
This will be our first appearance at the festival, what's really cool about it, is that its one of the first big festivals in America to start booking big electronic acts like Chemical Brothers and Fat Boy Slim. So they have always made electronic music a major part of the festival. It is now a very clean and corporate event but I don't judge how they promote their event. We are very happy to be a part of it.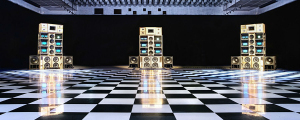 Who are you most looking forward to seeing while you're at Coachella?
Of course Guns and Roses, also Kamasi Washington as he brought out one of my favorite albums of last year. Also looking forward to LCD Soundsystem and James Murphy and 2 Many Dj's Dispacio project, I was briefly at their event at Lovebox last year but it was a bit too sweaty, Coachella should be a bit more comfortable.
One release that I have loved from you guys recently is the "Dancing on the Charles" VA, are you going to be carrying on that series?
Yeah of course, that is us shining a light on our hometown. Last year was the third edition, generally we like to put it out around May and we like to tie it in with local small festival; Together Fest. Unfortunately it was delayed last year, so we have decided to take a year off to concentrate on all our other projects we have going on.

What else is coming up for the Crew Love family?
It's a really exciting year for us; we have just launched the Crew Love label and the compilation to support it. We have an EP from Pillow Talk, Nick Monaco album, No Regular Play album, so loads of stuff coming up.
What is happening for the rest of the year with touring and your releases?
While we were in Miami, we started on work on our new album, which comes out in September. As our last album came out in 2012, we have 3 plus years worth of work that has gone in to it. With our previous album, we took out 3 months to write and mix the album, so it's a massive step for us musically. We have a lot of amazing funk musicians on there – P Funk's Billy "Bass" Nelson, Nona Hendrix, Greg Paulus, John Camp, plus more of our Crew Love compadres. So now we are done recording, we will be touring Europe in May, then we do a big Crew Love tour in June, July & August. Then we put out our album in September followed by another 3 months of crazy touring for that too. So the madness has begun.
We have just done a remix for an Indie band called "Small Black", its hard to describe it, but kind of like LCD Soundsystem . It's a different direction for us, which is really cool. We usually do much more remixes but with our new album and various Crew Love releases coming out soon, we wanted to step back from remixes and concentrate on the album.

You will be making your debut for Plus Minus this month, what was your thought process before playing these parts of the region?
We have played a few times in the Middle East before, being Jewish it was a no brainer to play in Israel. We also played in Tunisia, Beirut & Egypt; we found it really exciting sharing new music with new cultures and new places. As our music is so different from what you get in the clubs there, we almost feel like we are on this mission to get out there and share our music. We have plans to play Beirut, Oman and Egypt this summer too.
You will be playing all night at Plus Minus, how do you prepare for these extended sets?
For me its so much easier than playing an hour and half at a festival, you can get warmed up and get to know the booth and the sound system too. I also get the chance to play all this new music that I have been collecting be it stuff bought on Traxsource, Beatport, promo's, friends music, buying records. Some if not all of this music doesn't necessarily fit at the peak of the night so its great to play what your feeling. I also feel it sets the tone for people when they are coming in, so you have full control over the general vibe of the party. A slight part of negativity also comes down to the fact that the standard of the opening dj's has fallen so far. It was tough enough when we started as we would be playing slower music, the opening dj's would be playing house or tech-house and it would make it harder for us to reset things. Now it is way worse as not only is the music not right but these dj's are generally quite inexperienced, they would red line the mixer, too loud, too fast and it is really frustrating to come in to the club and follow that up. It makes it much easier to play the music we want and for people to really feel it.
For more full details on Plus Minus and their event with Soul Clap click here….