May

26
Tags
Related Posts
Share This
Focus on….Elrow
Elrow has been something of a phenomenon in recent times, or has it? Sure, Elrow is now known as a clubbing extravaganza that has taken club land by storm, but what a lot of people are not aware of is the rich and varied history that the Elrow brand has. ElrowFamily is the umbrella company over the Arnau Family consisting of generations of party starters since 1870, uniting their music and spectacle filled ventures. Now in its 6th generation, the Arnau family has been responsible for innovative parties in the Spanish region of Fraga and beyond. With their lineage dating back to the opening of Café Josepet in 1870, this would be the first building block being laid down by the family's vision of their entertainment business.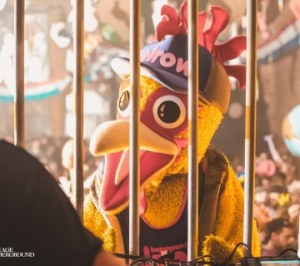 This continued right the way through the 40's and 50's at the Terrace Garden Florida and then later Saloon Florida. The same approach to originality was again employed during the refurbishment of the Florida 135 Club, which is still standing to this day. The gradual and forward thinking approach to their venues and the music they play there progressed all the way through to the early 90's where the legendary Monegros Festival was launched in the summer of 1992. In what has grown to become Spain's biggest and longest running festival, like Florida 125 Club before, Monegros has again brought the world's cutting edge musicians and in the process pushing the newest and most exciting music trends.
It was then in 2001 that the now infamous Row parties took place in the legendary Barcelona venue – Nick Havanna bar, with it being a further 9 years before the Elrow concept being recognized what it is today. That, as they say is (a brief) history and what a history the Elrow brand has. Now, Elrow is a travelling club brand, the likes the world has seldom seen before. Taking in the worlds biggest and best clubs. From their first dates in Ibiza in 2011 at Zoo Project and then finding a home at epitome of Ibiza clubbing – Space. Elrow returns this year to Space and bring with them a typically sprawling lineup each Saturday featuring the best in Spanish talent in the form of their residents, to ridiculous guests including regulars Eats Everything, Patrick Topping & Kolsch to name but a few. You can check out the full season lineup here.






One thing that Elrow has always done and done well, is break boundaries and in keeping with this ethos the Row Show is due to stop off in Dubai this weekend at local institution – Blue Marlin Ibiza UAE. Elrow will be bringing with them their usual brand of crazy; think inflatables, fancy dress, huge confetti cannons, general silliness and then throw in taste maker producer and label boss; Damian Lazarus & Andres Campos in to the mix and you have yourself one hell of a party.