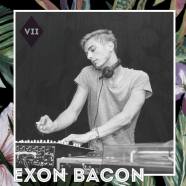 Jan

07
Tags
Related Posts
Share This
Record Of The Day: Exon Bacon – Crepuscule EP
Artists – Exon Bacon
Title – Crepuscule EP
Label – Play Label
Release Date – Out Now
The influential Play Label Records is back with a great new package from its manager Exon Bacon, who has previously released a big EP on the label in the form of 'Watching Dogs' in May 2015. The two original tracks are remixed by Cosmic Cowboys and Dachshund to make for an essential release that will get both DJs and dancers hot under the collar.
Exon Bacon is a Belgian producer who has been making beats since 2011 on labels like Electronical Reeds and Voltage Musique Records. He has picked up support from the likes of Troy Pierce, Sasha, Rodriguez Jr and more besides, so is a key player in the current house scene.
Le Soir is first and is a soulful, spacious house track that is super deep, Lazy drums set a nice inviting tone as cosmic melodic and snatches of synth add texture. The remix from Cosmic Cowboys is a little more driven, with rolling drums and dramatic chords that really make your spine tingle.
La Nuit is then a watery track that is riddled and rippled with gorgeous melodies and sombre, downbeat chords. It is a really magical cut full of feeling that cannot fault to grab the attention of the floor. Finally this one gets remixed by Dachshund into a more dubby techno leaning roller, with coarse claps, supple rubber drums and languid lines all soothing your mind, body and soul.
Overall, this is a lush and musical EP full of flavour.
Tracklisting:
1) Exon Bacon – Le Soir
2) Exon Bacon – Le Soir (Cosmic Cowboys Remix)
3) Exon Bacon – La Nuit
4) Exon Bacon – La Nuit (Dachshund Remix)
Describe the record in five words.
Dark – Contrasted – Soulful – Progressive – Roadtrip
What is it about the record that will appeal to the fans?
I think there is a really interesting contrast between the originals and the remixs; you can listen to one version while going to work and to the other on a dancefloor at 3AM (just choose the good one).
How does it differ from your last release?
It's actually quite different from my last releases in general, i took a more laid-back approach for this Ep. I didn't set out to make tracks for dancefloors, the melodic and rythmic structures are more progessive.
I also made these two originals with new synths, i wanted it to be special and to sound different than any other tracks i did before.
What was the inspiration for this release?
It all came from a road trip we made with the Play Label Records' crew to Paris. When we came back, our graphic designer made a video and i composed 'Le Soir' for it.
This track relates the first part of the trip and the night we spent in Paris at the Badaboum.
Immediately after, I made 'La Nuit' which was inspired by the back road to Brussels.
If you had the chance to play this in any club, which would it be?
Well, I won't be very original but i would definitely say the Panorama Bar!
Here is a soundcloud link to the remix…
Crepuscule EP is out now and available here