Nov

07
Tags
Related Posts
Share This
Record Of The Day… Echomatik – Zurich (Stereo Sauce)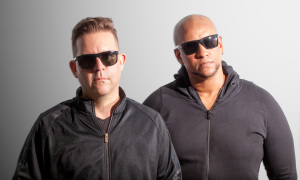 Artist – Echomatik
Title – Zurich
Label – Stereo Sauce
Release Date – Out Now
Stereo Sauce is back with a new and firing four track EP from Echomatik. Entitled Hanover, this EP- the label's third release- is another fresh offering that continues to lay out a fine musical agenda.
Jeremy Harding and Christopher Edmonds, aka Echomatik, are a duo that gives you techno that is variously funky, deep, dark, acid, melodic and minimal in style. Their coming together is an unlikely but fortuitous occurence given their backgrounds- based in Jamaica and veterans of the reggae industry (Jeremy managed dancehall/pop superstar Sean Paul for over a decade), both actually started their music careers as club DJs spinning underground house.
"Realise" is first and is a fat and bouncy number with dark vocals and squelchy synths that make for an inviting and elastic groove. "Night People" then hits harder and more intensely with its minimal bleeps and bells and raw percussion. Colour comes from odd melodies later on but this is still a real heads down monster.
"Zurich" gets funky in a techno way as laser guns, acid synth explosions and muffled vocals bring a dark feel to the stern drums. "The Revolution" closes things down with masterfully programmed percussion, industrial sound sources and a groove that you cannot ignore.
Carefully generated in their secret lab nestled high in the hills above (of all places) Kingston, Jamaica, Echomatik likes kick drums, reverb and funky vocals, but most of all they like it when people dance. And they surely will when they hear these new cuts.
Describe the record in five words.
Dark. Funky. Hypnotic. Brooding. Sexual.
What is it about the record that will appeal to the fans?
A lot of techno is either on the darkside or on the trippy dance side. This record is dark and brooding but still danceable.
How does it differ from your last release?
The last release "Sowot" was a bit more industrial sounding. Abstract, mechanical jabs littered throughout. Zurich is more bassline driven with a funkier approach.
What was the inspiration for this release?
The vocals snippets of the commanding male and the ecstatic female were the starting point. The idea was making it feel dark but yet very sexual.The bassline was the driver. everything else fell into place after that.
If you had the chance to play this in any club, which would it be?
Fabric …When it re-opens
Zurich feature on the Hanover EP, which is out now. Check it out below.
Buy your copy here – https://www.beatport.com/release/hanover/1859331