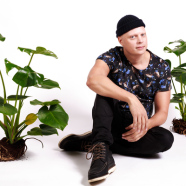 Feb

16
Tags
Related Posts
Share This
NIBC Interview
Fredrik Nyberg aka Nibc, is the man who helms the Trunkfunk label, a Swedish house-focused label that's got its feet firmly stuck in the discerning camp. A proponent of top notch house, Trunkfunk – which has been about now for an impressive 15 years – has welcomed the likes of John Dahlback, Style of Eye, Pig & Dan and Jonas Rathmann to the label over the years. A very Swedish affair, the label's latest sees Nibc himself take centre stage. Here's what he had to say for himself when we caught up with him recently…
Can you tell us a bit about setting up Trunkfunk? What was the idea behind it all?
We started a studio and a live act and did a bunch of gigs around Scandinavia, which lead to the start of the label in 1999/2000. But I think the story starts even earlier: I was doing something similar before we started pressing vinyl. I used to run a BBS to spread tracker music together with ANSI / ASCII artpacks before the Internet was of any use. So I think the main idea and roots for the concept started already back then for the music & artwork.
So before you embarked on a music career, what were you up to? Is music a full-time thing for you now?
Even though the music took up most of my time in the 90s I studied for a master degree in IT and worked a couple of years as a computer technician. Then I took the step to make it my full time job around the same time when we started Trunkfunk 15 years ago.
\What was the biggest hurdle for you in terms of making a success of the label?
Versatility in music and artwork for all of our releases. Giving the designers free hands for coming up with beautiful but sometimes time consuming solutions like picture discs or transparent printed covers for the vinyl is probably one thing that's been a core element for the label. I definitely don't regret doing that but it's a big difference from a branding point of view compared to just sticking with one designer and one clear recognizable direction for the artwork. I'm happy now looking back even though things might have gone easier in some ways if we stuck with one clear path (both for sound and vision).
So with Trunkfunk, was it a case of just starting the label to get your music out there? Did your success and that of the label's pretty much go hand-in-hand?
Although I like to be involved somehow in every release (even with just an edit or a remix) it was never my intention to start the label to release my own music. It's more about an opportunity to work together with people you like and also about having full control over the entire process. It's great to combine with other stuff that surrounds the label. Like doing parties and radio shows. Even though my own career and the labels are intertwined they can still have different success depending on trends, other releases, club nights and gigs.
So at what stage did you realise you were on to something with your music?
I think there are two things that made me realize that. First that it worked well when I tried my own productions in my DJ sets. Secondly when I started getting feedback from different places around the world after the first couple of releases.
What's been your favorite Trunkfunk release to date? Why do you think it stood out?
One of my favorites is definitely the 'Collaboratory' EP because I got to collaborate with a lot of good friends like Genius of Time, Hans Berg and Olof Dohnhammar. That's also why the Stuffa releases are some of my favorite ones where I can recall the vibe I had in the studio making those tracks with Jonas Rathsman.
And was there one which you perhaps feel should have got more props?
I think that maybe Spider Spins still is a bit of a hidden gem. It's one of those tracks people always ask me about whenever I play it out.
And what's the greatest satisfaction you get from running the label?
I think it's always exciting to see how people react to every release. It's also great to see a release take form and brainstorm with everyone involved in the creative process.
You guys are quite prolific in your schedule. What do you look for in a track before you sign it?
I think it needs to stand out, usually we get a lot of demos that sounds like a lot of other popular releases and it's fine to follow trends, but it's even better to do something different. A good measure for me is 'Would I buy this if I heard it in a record store?' & 'Would I play this out?'.
And can you tell us a bit about the latest release too?
It's a bit different compared to my previous work. But I think people can hear where I was heading after the Marble EP and my releases on HK. It's an intergalactic space vision with nods to the old school rave era and to the future funk that I've been exploring. I've been playing the tracks every gig for the last couple of months and I'm really excited about this release.
You put a lot of stock in your artwork. Who does the designing? Do you think artwork has become sort of redundant during the digital age?
Every release features an artwork by a different designer. They always have total creative freedom with every aspect of the artwork. It might not be the most clever branding strategy, but I'm very happy about what we've accomplished over the years. For me it all started with digital art simultaneously with the music so I think it goes hand in hand.
Do you tend to learn something about yourself both as a musician and as a person through each release? What's the biggest lesson you've learned over time about the label?
It's definitely an on-going learning experience but also after a while I tend to go back and look at old tracks and projects to re-use some ideas that actually had a better work flow or sound. The biggest lesson I've learned through the label was probably how not to do things. We didn't have a clue about anything when we started out and even though learning by doing worked out pretty well there was a lot of confusion with all the music industry stuff in the beginning.
Are you a person for regrets or do you prefer to look forward?
I always prefer to look forward. There is no use regretting stuff you can't do anything about now anyway. It is however good to learn a lesson or two along the way.
During your sets, what producers and labels do you nearly always call on more than others?
I think Deetron is one of those producers that always deliver sort of timeless tracks that I enjoy both listening to and playing out. Labels are a bit harder to choose. There are a lot of new labels coming through MTN at the moment and I especially dig the Lossless releases. I also look through a lot of old releases from the good old days of Strictly Rhythm, Nice N' Ripe and Relief Records.
And are you still as interesting in DJing and producing?
Yes! It's actually more fun now than ever. So hopefully I will continue with this at least 20 more years.
What are your plans for the winter ahead then?
I have some fun gigs lined up and I'm also spending a lot of time in the studio in Berlin. Finishing a new Stuffa tune with Jonas Rathsman and a couple of other collaborations. We have some great releases coming out on Trunkfunk the next couple of months by Vinny Villbass, Ishivu, De Fantastiske To and also an anniversary compilation at the end of the year. After Vega I've got another solo release ready called 'Love Lesson' with remixes by Ian Pooley, Tuff City Kids and Hans Berg. So there is a lot to look forward to!
NIBC's Vega EP is out now on Trunkfunk Records