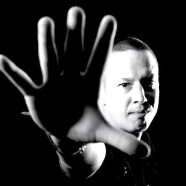 Jun

12
Tags
Related Posts
Share This
In depth with…AGENT! (Cocoon / Get Physical Music)
German artist Andreas Schreck, also known by his alter ego AGENT! has released on some of tech house's biggest labels in Get Physical Music, Moon Harbour, Desolat and of course Cocoon. Andreas has been relentlessly touring the world for some time now, but he found the time to sit down with EQTV.CO.UK to chat about his upcoming release for Get Physical Music amongst other things….
What has been happening in your world recently?
End of June I will release my second EP on Get Physical. The EP is called Sultan EP and includes a collaboration with my homie Dompe and a killer remix by Andre Salata. Next to it, I am just building up my new studio and I am really happy about my new equipment. I love to produce with my TR8 and TB3 from Roland, Ableton and only a few Plug-Ins. Especially I am looking forward to using my brand-new S2V Adam Audio Monitors.
You have been touring a lot recently, can you tell us a bit about your recent gigs and where has stood out for you and why?
Yes in 2017 I already toured in South Africa where I played shows at the CTEMF (Capetown Electronic Music Festival by RedBull) and another show in Johannesburg. The CTEMF is a very big and famous event and I was really happy to be a part of it. After I was touring in the Dominican Republic, which is kind of my second home as I got a residency at the Vibe Club in Punta Cana. It is amazing to see the scene there growing and growing. I also toured in the USA and Mexico with tour stops at the WMC in Miami, in Dallas, Juarez and Queretaro. At the moment I am on Aruba Island where I played a club gig and a Corona Sunset Cruise. Aruba is tropical paradise on earth – one happy island
You also hold a few residencies outside of your native Germany, can you tell us about those and why you chose them? What is so special about them?
I got a residency at Vibe Club in Punta Cana, the Dominican Republic which is ran by my close friend Felipe Alemais. I have been part of it since the beginning and I am really happy that I can support them growing. The start of Vibe Club was about 2 years ago and nowadays it is one of the best clubs in the Caribbean. We got international headliners and the best locals playing there.
With you travelling so much do you get the chance to work on music when you travel, or do you prefer to get into the studio rather than work in airports and hotels?
Of course, I get a lot of inspiration during my travels. I love to enjoy exotic places, street food and street wear. I keep those impressions for my productions at home. In my studio, I work up those ideas.
Your track "Shake" which can be found on the Kittball Konspiracy VA is currently doing very well in the charts and dancefloors. Where did the idea for the track come from?
I love that old Miami base area sounds like 2life Crew and those bangers. It´s a mix of this and Chicago stomping house. Dompe also loves Chicago house a lot so we got that common groove.
Where have you found this track has worked especially well?
Lucky me I can test the tracks all around the world in various situations. I feel it works very well on open airs, beach parties and also in the club nights, the ladies always shake what their mama gave em after the first drop

Do you have a specific dancefloor in mind when you craft your tracks?
Not really, I got more a special vibe in mind always fitting to dancefloor needs basically, I love tracks you can remember after the first time hearing them. It's more interesting if you get that kind of earworm after you leave the party.
Word on the street is that you have a huge release coming up on Get Physical Records, can you tell us more about that?
Yes, the "Sultan" EP will be released on the 28th of June at Beatport and on the 14th of July on all other platforms. I am really happy to drop my second EP on that famous imprint. The "Sultan" EP feels best at home in dark, hot sweaty basement somewhere – where the bass throbs and the crowd's cheer. The title track, a joint adventure with Dompe brings a flashy groove together with catchy sax lines with one goal: get the floor moving. "Alien Nation" takes the energy further, with a crushing sub bass and a stunningly effective techno-fueled pressure.
When you are not flying around the globe DJing, you call Berlin home. Where is your favourite place to play in your hometown?
Of course, there are a lot of amazing venues in Berlin and each of them has it's special vibe and I really love many Berlin locations. I recently played a gig at an off-location at Volkspark Friedrichshain with around 3.000 people in front of me. It was incredible. I love to play at Sisyphos and Suicide Circus a lot, also there are this newcClubs like Birgit & Bier or Anomalie which represent the Berlin underground.
What else do you like to do when you finally stop at home?
Berlin has got really nice and cheap food, I am always looking forward to eating a nice kebab when I come home
In summer Berlin is really the place to be, you can chill at so many beautiful spots. We got lakes and green green green parts surrounding us everywhere.
What other releases and special gigs do you have coming up that you can tell us about?
I will spend most of the summer in Europe. I will play some nice festival, for example, the Twin Lakes Festival. It is a new festival but the lineup is really top-class and the location is beautiful. On the 12th August, I will play at an open air at an old castle ruin which looks really historic and impressing. On July 22nd  I will be back at Boogie Box in Abu Dhabi and I am really looking forward to it. I was impressed by the city surroundings and the lifestyle there. Next, I will play a tour in Greece and more shows in Munich, Berlin and many more. Check my homepage for being updated with my gigs agent-music.com – see you around !