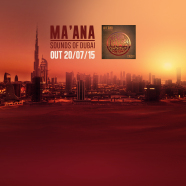 Jul

21
Tags
Related Posts
Share This
Ma'ana: Sound of Dubai
Having arrived in Dubai little under a year ago I have been delving in to what the Middle East's party
capital
has to offer
and I have found that the scene here is just as diverse as any major sun drenched destination. With clubs catering for and regularly booking international guests in almost all genres of music
, from the staple Deep House to more harder leaning Techno and Tech House. Even when the producers and artist that call Dubai home regularly release on such illustrious labels such as Dear Deer, Noir Music
and Dj Sneak's I'm A House Gangster, little has been said en mass about the producers which are shaping the cities scene.
Enter
Tobie Allen and his Bootleg Social Records imprint, Tobie has experienced first hand how the domestic  and ex
pat artists that are putting Dubai on the map time
and time
again. To help showcase the regions undeniable talents, he has taken up the gauntlet and in the process
has put together a solid collection
of electronic music
aimed firmly at the dance floor.
Having been supported by Red Bull, Tobie has worked
tirelessly to provide a platform
from which to tell the story of the regions artists, I caught up with Tobie to discuss the compilation….
EQTV – Firstly, can you tell us about Ma'ana and what it means?
Tobie – Ma'ana means Together in Arabic
. To me, music has no boundaries, no race, no creed. Ma'ana:Dubai is a full and honest representation of the Dubai dance scene. There is too much negativity in this world and the one thing that brings people
together is music. Hopefully the awesome work
these artists have done can bring a smile to people
all around the world.
EQTV – What prompted you to work
on such a project?
Tobie – After being here for around a year I had come across many talented producers in the region. I really wanted to showcase the talent that I had come across in the region.
EQTV – How did Red Bull get involved?
Tobie – I had an existing relationship with Red Bull over the years and thought that the project matched
their vision for promoting
the arts. So once I had got the album together I approached them and was humbled when they agreed to support the project.
EQTV – How has the feedback been for the album so far?
Tobie – There's been some fantastic feedback so far which I'm really grateful for. The likes of Paul Oakenfold, Nick Muir, Oliver Lang, Sam Paganini, Jospeh Capriati, Alex Blanco, Carmelo Corone, Andi Durrant are just a couple from an long list of artists and world wide radio stations supporting the project.
EQTV – Will this be a one off compilation or do you have future
plans for the concept?
Tobie – I originally aimed to just do this project but because the feedback and support around the globe has been so positive I will be doing some more. As long as the support is there for the artists involved in the projects then I will carry on.
EQTV – What do you have coming up on Bootleg Social Records?
Tobie – Next up after the album we have "Sterbai and Strigata – Without Warning". Then after that, we have "Simon Huxtable aka Real Gone Kid – Modularity" where I have also done a cheeky remix. Some other great
signings in
the bank
, so really looking forward to the new season here in Dubai.
Release – Ma'ana: Sounds of Dubai
Artist – Various Artists
Label – Bootleg Social Records
Release Date – 20th August 2015
You can grab the album here
Tracklisting -
Conan Liquid – Disco, Non Disco
Andy Buchan – You2
Arcade 82 – Never Enough
Tom Chubb – Still Drive
Ilona Maras, Stellar Disco Ft. Ana Coya – Invitation
Rayner & Wisqo – Deeply Fractured
Ted Numan – Dusted
Raysoo – Nefafen
NFLNT – Get Lifted
Deep Hertz – Rollerblade
MXD – Less Than Nothing
Nick Hussey & Drinky – Dictator
Matthew Charles – Turkish For Lunch
Smokingroove – Genco
Thomas Gandey – Delirium (Raxon Remix)
Reddub & Sam Farsio – Most of Me
Tobie Allen – Breeze
Shaun Warner – Mahadi
Nick Hussey – See You Move
Shaun Warner & Tobie Allen – You Must Be Mine