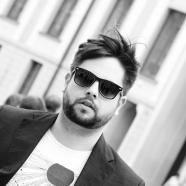 Feb

16
Tags
Related Posts
Share This
Felix Cage Interview
Belgian producer Felix Cage is a individual who impressed us recently when we heard his remix for Anja Schneider, and even more so when we checked in with his work on his label, Electronical Reeds. His latest release, Secret Lover, is out now, so EQTV caught up with him for a quick chat…
So how has the winter been so far? Many highlights?
Mobilee Records has just release my remix for Anja Schnider's "Dubmission". I am very happy to be part of this release giving my interpretation together with guys like Lee Van Dowski, William Kouam Djoko and Alexander Aurel. I guess it is a good highlight to start this year!
How do you look back on your early years as a raver? How have your tastes changed since then?
The bpm slowed down, that's for sure
I opened up to new styles and genres and I am always eager to discover new music. I find this diversity to be very important for developing my sound when I am writing music.
So what sort of music did you grow up with then? And when did you become interested in house music?
I grew up in Moscow with pop-rock culture and early 90' ravish Eurodance sounds. I really discovered house music and techno when I moved to Belgium. With country's history of electronic music it was only a matter of time before I got sucked in.
Was there one epiphany moment where you realized this is what you wanted to do then?
Actually yes. I was out in one of Belgian clubs that used to be very famous at the time. I guess it was somewhere around 2001. The club was packed and the resident dj dropped this tune and the whole club went mad screaming with their hands in the air. You had to be there. And I said to myself "how cool would it be if I could make 2000 people go nuts with a couple of sounds?". That was that moment.
So how did you learn to make music? Did you take classes? Or just through trial and error on your laptop?
I did piano lessons and solfeggio when I was younger so the music side was sort of covered. The software I had to learn with a lot of time spent on tweaking those virtual knobs. Luckily one of my best friends is a sound engineer and I got a crash course on basic sound design. I learned a lot from him. He also became my sound engineer so when it comes to mixing a track I wrote I go to his place.
How long did it take until you got to a stage where you were pretty assured with your sound?
It was a step by step process for me. I learned and improved with every track I made and today I am happy with how my tracks sound. They are punchier and more dancefloor oriented.
And when did you decide to start Electronical Reeds? How would you describe the last few years?
I started on Electronical Reeds as an artist in the beginning of the label. Two years later the management changed and I was proposed to join the management team. It was a bumpy ride in a way as we had to improve on some points, change others, all this with a fair amount of trial and error. Ultimately we are getting where we wanted to be and the 5 Years Anniversary release and tour we are working on will be the highlight of the work done. So watch out for that in the second part of 2015.
So does that represent a challenge to you as an artist? What other challenges are you faced with at the moment from a music point of view?
Running a label is easy in a way. Making it successful is another deal. It takes a lot of time and effort. As I am an artist as well I have to manage my time that is shared between the label and the artistic career. It is not an easy task. From the artistic point of view working on my personal "sound touch" is an ongoing challenge. I think it is an essential point for artists taking the quality over quantity approach. Also while I do like melodies in my music I am working on keeping a right balance between melodic side and heavy groove. I want my music to make people dance and feel at the same time.
What do you produce on then? What piece of kit has really opened up new doors for you recently?
I write my music at home and then go to a studio for mixing the track. I use mainly Reason and Ableton to write music. I cannot name something specific that I found amazing as there are many very cool sounding synths out there. I guess it is always a personal taste and preference. When you find some stuff that sound right for you, you generally stick with it for a while.
When was the last time you heard a track that was really stunningly produced? What made it stick out for you?
The one that I found really well done was the remix of Jon Charnis, Prab K and Lovecraft for Art Department's "Robot Heart" track. It has a ton of elements with heavy low-end and plenty of stuff in mid and high. The track is very well arranged and produced as it keeps a very sharp balance between all the elements.
From that point of view, which track of yours was the biggest challenge to put together?
My upcoming Secret Lover track for sure. It started off as a nearly chill out track at a very low bpm. But I wanted it to be more dancefloor oriented without losing the original idea. I made a lot of arrangement versions before I was finally happy with the one that will be released.
And when you're coming up with a new track, what do you start on? How does that all work for you?
It can start from anything. Sometimes a melody that comes first and you rush to your keyboard to write it down. Sometimes I am just messing around with sounds or rhythm patterns until I find something that sounds interesting. There is no set of rules really.
So can you explain the Secret Lover EP to us a bit then? What was the vibe you were going for with it?
I was first going for a very relaxed and moody vibe. You were not supposed to dance to it really. Ultimately I did not think it was the right moment to release this kind of track, especially on its own, and decided to go for a more dancefloor oriented version. Madmotormiquel's remix reinforces the release with a darker atmosphere which I find perfect for this ep.
I still of course have the first version of the track. Maybe I will release it someday but as part of something bigger, maybe an album.
What do you see as the future of your productions? Do you set yourself challenges?
I constantly push myself to improve on every aspect of music production. I want my music to be heard and danced to. Thus more dancefloor oriented tracks will follow where I still want to keep my melancholic touch. I also have some labels in mind that I would like to work with some day. I really hope it will work out. And of course pushing our Electronical Reeds label as far as we can is on top of the priority list.
And what else have you coming up that you'd like to plug?
Electronical Reeds will be celebrating its 5 years in the second half of the year. We are planning a special release with label artists and label friends as well as a tour for this occasion. So watch out some fresh pieces of music and hope to see all of you on the dancefloors.
Felix Cage's Secret Lover is out soon on Electronical Reeds