Apr

09
Tags
Related Posts
Share This
60 seconds with Extrawelt…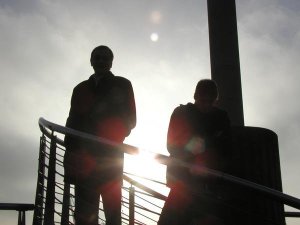 German duo Extrawelt are an inspiration to all things live, with highly acclaimed albums under their belt and an over due third on route. We get 60 seconds with the guys before they head to Egg LDN this weekend…
The live tour, tell us about the current tour and what its been like? Any highlights?
Since we took a small break in December and half of January it has been a great ride. A highlight was definitely the gig in our hometown Hamburg but Tel Aviv, Budapest, Istanbul, Berlin, Frankfurt and actually all the others were great too. We have had no "blanks" so far.
And your set up, what makes up the Extrawelt live set?
Roland SH101, a drum machine, two laptops, soundcards, controller, some little boxes, analogue 24 channel mixing desk, a midi-keyboard, two hardware effect processors and some compressors.
With a live set there is so much more imagination you can provide and a lot more invention involved, do you like the process and improvisation and would you play live all the time if you could?
For a long time we didn't not play live actually. And yes we like it, or better put; we accept the weekly challenges from the technical and logistic point of view in order to enjoy the moments on stage. Improvising and also being able to react on the crowd or circumstances is definitely an advantage. Often also unexpected situations or even mistakes or technical errors can turn out to be special for the outcome.
And making music, what is the process between you guys when creating an EP or album?
We don't have any real process or formular that we follow. Its all freestyle and we start every track from scratch. Further its important to us to give each other the freedom to do whatever or whenever one feels like doing something or even not.
The first two albums were so eagerly anticipated and deservedly so, can we expect a third?
Thanks. Sure there will be third one and it's a bit overdue but it will get as much time as it needs.
I know you're back in London soon, at Egg club, what do you think to the music scene in London right now?
We are a bit far away to really know about what's going on or what has changed but whenever we are in London we are having a splendid time. We have heard so much about Egg LDN from friends and with it being our first time we are really excited to get on that sound system.
Is there any body you're really digging right now in the current UK techno climate?
Our crates usually include more UK stuff than from any other country. Lots of them are my old heroes like for example Clark, Surgeon, Burial or Radioactive Man but we also have Pearson Sound, Arca, Hodge or the Lobster Theremin camp too who are doing some great things.
And festival season, where can we see you over the summer?
Quite a few, confirmed so far are:
Germany: Love Family Park, Sonne Mond&Sterne, Songkran, Echelon, Open Beatz
Netherlands: Loveland, Into The Woods, ADE
Japan: Rebirth Festival
US: Symbiosis Gathering
Columbia: Baum Festival
France: Fest Bouc
Portugal: Forte Festival
Switzerland: Lethargy
Belgium: NoName Festival
Austria: Urban Art Forms
And further more what can we expect from you in the near future?
There are some releases that are coming soon:
Extrawelt – Breaking Bricks EP / on Halo Cyan
(plus Remixes by Ulrich Schnauss, Vril, Joey Beltram)
Juno Reactor – Final Frontier (Extrawelt Remix) / on Metropolis
Landside – Wasteland (Extrawelt Remixes) / on Just This
Stephan Bodzin – Blue Giant (Extrawelt Remix) / on Herzblut
And our latest release:
Glitterbug – Far Far Light (Extrawelt Remix) / Notown Recordings/C.Sides
Extrawelt play Egg LDN this Saturday for Perception Berlin – www.egglondon.net