Jun

11
Tags
Related Posts
Share This
5 Off Sonar Parties
With Barcelona being a rich and varied location for clubbing, during mid June the amount of options
available becomes almost ridiculous….almost. This year the official Sonar festival lineup is fantastic but there is amazing parties to be found elsewhere around the city. Here is 5 parties that are well worth checking out.
http://www.residentadvisor.net/event.aspx?701743
Having been releasing steadily on Michael Mayer's Kompakt imprint for some time, The Orb's long awaited new long player "Moonbuilding 2703 AD" is due to drop just after the Kompakt showcase, so getting the chance
to see the lads perform the album live before its released is enough to warrant your attention. Couple that with the fact that Kompakt have been revisiting Nitsa Club for over 10 years is testament to the vibe they have created there, throw in sets from Rex the Dog, DJ Fra, Dave DK and boss man Mayer himself and you got one hell of a party.
http://www.residentadvisor.net/event.aspx?697179
Next
on the list is a party pairing that really doesn't need any further explanation – Feel My Bicep X Live at Robert Johnson. It is a certainty that the music and atmosphere will be top notch, if this was ever in question DJ Harvey, Bicep, Midland, Ryan Elliot, Martyn (live) and Robert Johnson regulars Oliver Hafenbauer and TCB (live) will have more than enough to say on the matter.
http://www.residentadvisor.net/event.aspx?690722
Bringing the sound of UK to BCN has never been in safer hands or felt more than the pairing of Hessle Audio X Hinge Finger. Taking over Be Cools revolving dancefloor will be an all star
cast made up of the immortal Ben UFO, Blawan, Joy Orbison, Pangaea, Pearons Sound and Will Bankhead. For anybody who loves their bass deep and their beats non conformist this should be right up there on your list of must do parties this Off Week.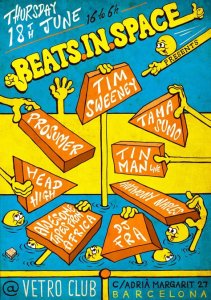 http://www.residentadvisor.net/event.aspx?698076
With endless amounts of techno on offer during Off Week, its easy to forget that the crème de la crème of House is very well represented. The pick of the bunch has to be Tim Sweeney's Beats
in Space event, with his show running every week since 1999 its safe to say the music will be decent. Tim has cherry picked a show stopping bunch of the best selectors about, namely Tama Sumo B2B Prosumer, Head High aka Shed, Tin Man Live, Anthony Naples, Awesome Tapes from Africa & the closing
set from Tim him self. Spread out over 12+ hours at Vetro Club this is possibly my favourite line up of the week.
http://www.residentadvisor.net/event.aspx?700546
Known for it's hedonistic party atmosphere and top notch bookings
, Elrow has certainly pulled out the stops with this years off party. Situated right at the end of one of the most demanding clubbing weeks of the year, Sundays at Sonar Off Week are not for the feint hearted and this party is testament to that. Headliners include Patrick Topping, The Martinez Brothers and Skream to name but a few of the huge cast, there will also be a One Illusion Showcase lead by Adam Shelton.