Jul

05
Tags
Related Posts
Share This
5 Minutes With… Eren Erdol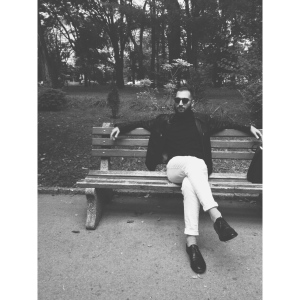 Having had a musical career that has stretched across a number of genres, Eren Erdol now finds himself well within the electronic scene. With a continuous chain of high level productions and standing strong at the helm of the Petra Digital imprint Eren is certainly someone making ground in the underground sounds. We caught up with him just days after releasing the impressive Falling EP.
Hi Eren, great to talk to you today. Run us through a brief history of how you became involved with electronic music, what was the first initial memory?
Well, the story began, when I decided to make my own tracks after my drummer career. I have played with several bands in Istanbul as a drummer but I was more close to Nu Jazz and House Music and recorded my first EP called "The Outsider", when I was living in Netherlands on 2011.
How far down the line was Petra born? What was it you set out to achieve when the idea of a label was born?
I was planning to move to Berlin and establish my own imprint over there however I changed my plan and stayed in Istanbul. There are some good producers on electronic music scene but there was any imprint, which has focused electronic music, especially House and Techno stuff and thought that it would be good to support these names and create some vibe from Istanbul.
You have a number of artists that have appeared on the imprint, is it the sort of label where you like to keep it quite family orientated, are you constantly looking for new talent to bring in and expand?
Exactly! My biggest aim to create a crew and family vibe on Petra. Luckily, met with Niclas Kannengiesser,
Roman Muhlschlegel, Peter Clamat from Germany and all these names has already known between each other because they are from the same region in Germany. Especially, feel super crewy with these names on my imprint! Love you guys, thanks for everything!
Do you feel that running a label has helped improve your DJing and music? If so how?
I think yes, because we have made many showcases at several places like Istanbul, Kassel and Barcelona. This year, we had a chance to appear on OFF Sonar Week with Petra and it was totally amazing! I guess all of these events helped me about DJing. For producing music, it's also so motivated to make some good tunes and release it with good remixes.
Next on the label is your brand new EP 'Falling', how did the track come about, what was the inspiration an do you feel you succeeded in what you set out to do with it?
This track called "Falling", I made it one previous summer at my home studio and received very good feedback. Then I decided to release it from Petra with an attractive remix and started to research the true remixer. Finally, I had a chance to contact with Joeski from NY.
Joeski steps up on remix duty for this one, why did you decide with Joeski and what is it about him that makes his sound so suitable for Petra?
I have been following Joeski for a very long time and I'm a big fan of his sound for sure! I decided to try my chance to cooperate with him and luckily, he liked the original track and said OK let's go on with this! Clearly, I have been super satisfied with the result of the remix. It has been played by Joris Voorn on Awakenings Festival, Amsterdam on previous week and feel super happy to have these kind of feedbacks for the EP.
Sticking with your music, what can we expect to hear from you in near future?
I have been working some fresh tunes but i don't know when it will be out and which label will release it. Maybe, i will release my next EP from another label. I will let the scene know about it, when it'll be certain.
How is your summer looking regarding gigs? Where can we see you playing?
I moved to Barcelona from Istanbul and have some gigs here and also in August, I will play with my label crew at Istanbul.
Looking back, and then forward, what is your highlight of your musical career so far, and what is the next main goal to achieve for yourself?
For my artist career, I will continue to try my best to produce the vibe that satisfy me. For the label, I want to focus more vinyl only releases. We have some upcoming releases from Niclas Kannengiesser and Georgi Barrel from Germany, Gullen from Spain with remixes from very special names. So, stay tunes for the updates!
And to finish today, what is your best opener and closing track?
Best track to open is;
Filous – How Hard I Try (Robotaki Remix)
and Closing is;
Konstantin Sibold – Leif (Original Mix)
Falling EP is out now and available here. 
www.facebook.com/petradigital
www.soundcloud.com/petra-digital-vinyl
www.facebook.com/erenerdolofficial
www.soundcloud.com/erenerdol