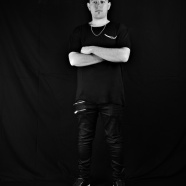 Jun

23
Tags
Related Posts
Share This
5 Minutes With… Alex M
Alex M is an Italian producer, dj and label owner who is fast making a name for himself after producing countless high level club bangers. Having released on the likes of Toolroom, Stereo Productions, Hang On Music and Elrow the future certainly looks bright for Alex M, and with a lot to talk about we caught up with him to chat further about the label, his recent release and what is just around the corner.
Great to speak to you today Alex! Let's start off with how you first became involved with electronic music, what is your first standout memory of it?
I started when I was little with my father, listening to artists like Jean-Michel Jarre, Kraftwerk, Giorgio Moroder and then like everyone in adolescence I started to discover my favourite artists, going from house music to techno. My favourite record is Chip E – Like This.
Who would you say were your biggest influences were and how are they present in the sound you produce today?
My influences are from house and techno. I was very influenced by artists such as , Kevin Saunderson, Kerry Chandler, Robert Owens, Frankie Knuckles, Carl Craig, Derrick May and many more. As you can see from my productions I am a lover of old school beats, typical sounds of  the Roland 909 – 808 – 707.
Alongside your production, which has seen you release on a number of well established labels, you have also recently set your sights on launching your label Hang On Music. Why have you decided to create your own imprint and what do you set out to achieve with this?
Hang On Music is a project that I conceived in the summer of 2013 and made official in January 2014 with my EP Dream House, which turned out as a great success. I decided to create my own label to give space to the music that I love. The majors labels prefer to release more of famous artists, but a lot of the time they do not pay attention to the quality of music. My goal is also to give opportunities to non-famous artists, but ones that produce quality music and it is working, with Hang On Music being supported by artists like Richie Hawtin, Joseph Capriati, Santè, Solardo and many more.
The first release is set to come from yourself this month. Titled Oblivion, is there a story behind its creation? Do you feel that this is your most honest and true sound since it is being released on your own label? No interference as such from outside labels.
Every time I make a new track I create what I feel at that moment, I am not inspired by a label. When I finished the Oblivion EP I realised that this is perfect for the first vinyl release on Hang On Music.
How does your current set up look in the studio, is it a cross between both hardware and software or? 
I use a combination between hardware and software, often using the digital, but I do like to create the beat with my TR-8.
Is there one piece of studio equipment that most defines your sound, maybe a synth, a plug in…?
Yes, mainly I use the plugin Sylenth and Trovaverb, API 550 EQ and Fabfilter Pro EQ2 and often the internal tools of Ableton like the sampler and many more.
Do you follow a set procedure when working on a track or is it different every time? Drums first, or melody?
I like to experiment, sometimes beginning with the bass or the beat. I never follow a precise pattern, I create what I feel like at that moment in time.
Going back to Hang On Music, what do you have planned for future releases? Will it just be solely for your own music or can we expect different artists? If so, who do you have lined up, and also who would be the dream to sign to the label?
Of course, in July we will be releasing an EP from Adrian Ruiz with a great remix from Mike Denitz, two great Spanish artists, then in August we will bring out the new Various Artist – Hard Floor Vol 6 which will also include a track from myself. For the rest, just stay tunes

Does the same apply to the Hang On radio show? Can we expect to see some guest appearances?
Yes, Hang On Cast was created to let the public know the artists of the label, and the friends. The next guests will be Dinamix, Adrian Ruiz and many more to come.
Finally to finish off, what has been your career highlight so far, and also what is the next main goal for you to achieve?
I just signed my next tech house EP to Elrow Music, the label of the famous party Elrow. Another EP is set to drop on Safe Music, the label of the Deepshakerz, a great Italian duo. My goal is to continue to produce music that makes me happy, myself and the people who listen to me around the world!
Thank you very much for your time today.
It was a pleasure talking with you thanks!
Alex M's Oblivion EP is out Monday 27th on his own imprint Hang On Music.