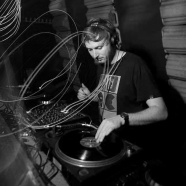 Feb

18
Tags
Related Posts
Share This
Record of the day… Martin Lewis / Monoklo 2
Artist: Martin Lewis
Title: Monoklo 2
Label: Holic Trax
Release: Out Now
Cat. No. MNK002
Monoklo is a new sub label of Holic Trax that focuses on darker, deeper techno and house sounds, away from the more groovy and soulful offerings of the well established main label. After the success of the first release by Ivan Iacobucci, which saw support from the likes of Arpiar, Vidionquest & Laurent, the label now enlists Martin Lewis for three hot tracks featuring a remix from label boss man and Japanese don Tomoki Tamura.
Lewis is a Berlin based DJ and live set specialist who has been collecting vinyl all his life. He blends together his life's worth of influences into off kilter dance music that has impressed those who matter. It comes on labels like Exploited and Hollic Trax as well as Freebase Records and this newest release is the latest in a long line of success for the man.
No nonsense opener 'The Wax' is a supple, rubbery roller with sparse stabs accompanying the infectious groove. Bubbly and restless and littered with odd voices and scurrying little bacterial sounds, it is a fun yet functional way to kick off the EP. The brilliantly dream like 'Poetry' then sinks down into a more warming and human groove, with smeared synths bringing colour and heat to a loose house groove.
The final excellent original is 'Drumcatch,' which is a choppy techno track with stormy solar winds and reflective hi hats glistening above a jumbled drum line. There are some old school, rave signifiers along the way that help make it all the more charming, and this is the track that Tomoki Tamura also remixes. His version is stripped right back to a suggestive, infectious final groove with feather light percussion, skewed chords and involving sub bass that laps at the heels of the track.
This new sub label is as fresh as exciting as Holic Trax itself yet offers something slightly different for DJs and dancers everywhere.
Tracklist:
A1 The Wax
A2 Drumcatch (Tomoki Tamura Remix) B1 Poetry
B2 Drumcatch
Describe the record in five words.
Deep, forward, timeless, various, warm.
What is it about this record that will appeal to the fans?
Listen to all the tracks and feel the journey it takes you upon.  All tracks transfrom a special feeling and are fitting to wonderful places in space and time.
Starting off with the club banger "The Wax" just raw energetic house music followed by Tomoki´s superb remix also made for the club. The B-Side is deeper and suitable for warm ups and afterhours.
How does it differ from your last release?
My last record was quite different. It had a more happy character and contained a lot of disco samples. This one is deeper and darker.
What was the inspiration for this release?
Life is my inspiration, I do music and work on my tracks almost every day. Tomoki selected the tracks, because he has good experience and an excellent taste.
Those tracks fit good together and with the ace remix the release became a great whole.
If you had the chance to play this in any club, which would it be?
The tracks fit in any club, when the DJ is playing House Music. The Ep was already played out at in some clubs like Cafe 1001, Brunnen70, Kater Blau and on several Radio shows across the globe. I would love to play these tracks at Panorama Bar and at Globus Tresor someday. I really love the soundsystems and the vibes going on there.