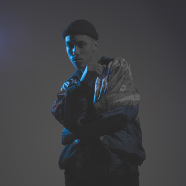 Aug

26
Tags
Related Posts
Share This
5 Minutes With… rHr
rHr is an artist really making headway with a definitive sound crafted for the clubscene. Hailing from Brazil, his recent alongside non other than Danny Daze has really grapped the attenttion of thee heads in the scene, boding well for the future and setting himself up well for the coming years. We spoke to rHr  to uncover more about the relatively unknown artist, check out what he had to say below.
Introduce yourselves for those that don't know. How did you get to where you are today?
Yo whatsupp I am rHr, young man trying to do some weird noises, a lot of studying and hours in studio, and of course, involvement with the people who help me.
How long did it take you from getting into dance music to having your first release? Was it hard to find your own sound?
Five years playing and three producing. My first release was just last july, in collaboration with Danny Daze for Warung Records label. I don´t think I have found just "my" sound yet, when I go into the studio, I try to experience a lot of different things, but you will definitively find a lot of syncope, and variation on drums notes and also a lot of swing, that usually comes natural for me, it´s difficult for me to sit there and make a "straight" track.
And what is that sound do you think? What do you aim for with your music?
I just try to have fun and make music, not attached to one style. I just wanna keep doing the sound I love for the rest of my life, and to be able to do it everyday is not so easy in Brazil, mainly because of the economic moment we are having now,  but I believe that with hard work and discipline I can make it work.
How do you like playing festivals vs clubs? What are the similarities and differences? Do you play different sounds at each?
Very distinct vibes I think, when I play at a five hundred capacity club, it's more intimate, and i feel like I can mix a lot of different sounds and different styles, it´s a little different than festivals.
Tell us about the tracks you have done for Warung?
We made two tracks, "Ginga" and "Ologram", the track the entitles the EP is a proper electro but also there´s a lot of techno, driving and rough, this particular track "ginga" shows a lot of my influences, and the combination of my style along with the master Daniel Gomez. Without him, the EP would definetively not sound the same, "ologram" approaches a more dark, techno and repetitive side, but still with lots of variaton on drums, something that really goes well with  warung´s  temple vibe.
And it is a collaboration with Danny Daze. How did your relationship with him come about?
I´ve been in contact with him for one, one a half year by now, i sent my music for his childhood friend Deroboter, who also haves releases for Ominidisc, a label wich danny also is the curator. I just sent so they could listen to it, and they really liked it, so we stayed in touch, it´s really dope for me how my sound got to him, really organic and very inspiring.
What gear did you use to make the EP, or was it done in Ableton? Why do you use the setup you do?
Vst called "diva" from U-HE and the "Zebra" from the same company, and i also used 808 drums with tape saturation, danny definitely makes it work, and i use ableton to make the sequence.
What are you doing right after this interview?
Just open Ableton and try to create something new, just another day at the studio.
What do you do to pass the time in hotel rooms and on trains and planes when touring? Can you write music on the road or watch TV or?
I like to listen to music and sometimes just have some alone quiet time, focusing.
Be sure to pick up a rHr's latest release here.