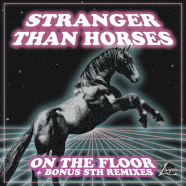 Jan

04
Tags
Related Posts
Share This
Record Of The Day – Stranger Than Horses 'Peach Beach Disco (Munsen's Raw AF Mix)'
We have the pleasure of speaking with Lagoon Recordings boss Eddy Munsen! We find our more about Peach Beach Disco from Stranger Than Horses' 'On The Floor EP' and where he has taken the record in terms of inspiration, the fans and where they would most like to hear it…
Describe the record in five words.
Demented, arpeggiated, hi NRG, disco infused techno.
What is it about the record that will appeal to the fans?
This is the first real input from the labels creator Munsen. This style of techno offers a new sound from the label that appeals to any kind of peak time set. House, techno & disco djs across the board have already began to jump on board. Including Danny Tenaglia, Christian Varela, Markantonio, Horse Meat Disco & La Fleur.
How does it differ from your last release?
Lagoon Recordings last release catered for acid techno fans. Although still in the techno ball park, this remix on the latest release has a more energetic, manic ride with an almost (dirty word?) 'electroclash' feel.
What was the inspiration for this release?
As basic as it sounds the original 'Peach Beach Disco' track was the real inspiration here. I Just felt it had so many directions it could be took as a remix as it was based around a 70's disco vibe and offered alot of ideas once I started to analyse things. To go down the route it finally did was a natural process, that bleeping loop just carried things along nicely once I messed it up.  I couldn't remove any disco feel it carried it was just too prominent in the original On The Floor.
If you had the chance to play this in any club, which would it be?
I think to be able to play this anywhere, I would have to choose somewhere like Bugged Out a few years ago. Maybe hearing someone like Dave Angel looping sections of it and building that funk intensity. Somewhere more to date? A huge venue like the Gashouder at the Awakenings by someone known for raw funking techno parts to their sets. Although just knowing its getting played out is satisfying on a huge level.
You can listen to the track here: https://soundcloud.com/lagoonrecordings/peach-beach-disco-munsens-raw
On The Floor EP is out now! Buy the track here: https://www.beatport.com/track/peach-beach-disco-munsens-raw-as-fuck-mix/10020960
Label Facebook: https://www.facebook.com/lagoonrecordings/
Label Soundcloud: https://soundcloud.com/lagoonrecordings
Artist Soundcloud: https://soundcloud.com/eddy-munsen