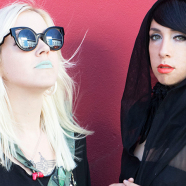 Oct

22
Tags
Related Posts
Share This
Record of the day… Slumber Body Clock
Artist: Slumber
Title: Body Clock
Label: Rhythm Digital
Release: Out Now
Cat. No. RCD001
Paul Loraine is excited to announce a new sub label to his main charge, Rhythm Cult, entitled Rhythm Digital. This new label will showcase fresh sounds from artists like Dan Baartz, Brenn & Cesar and Alex Jann, but kicks off with a killer three track selection from Slumber.
Originally hailing from Tampa, Florida, Slumber is the duo of Amber Cox and Oona Dahl. They came together over a shared love of music and have clocked up credits for their fine machine sounds on Viva, My Favorite Robot, Bad Animal and many other fine labels. Combining the organic with the synthetic, the dark with the light, they have very much cooked up their own singular sound.
The alluring 'Body Clock' goes first, with its wavy grooves, deep synths and slightly paranoid ambiances of skittish voices and wet claps. A deep, burrowing track, some tender piano chords and intimate vocals add a sensuous, romantic feel. It's a fine opening cut, to be sure.
Then comes 'Round Rose,' quicker and slicker techno leaning cut with disorientating chords, layered poly-rhythms and lots of lush synthetic texture. It's a dead of the night back room record that makes for a spooky vibe, and is masterfully carried out.
Last but not least, the brilliant 'Shooting Salad' is a loose, shuffling shimmering minimal cut with feathery grooves and restless snare patterns. It is absorbing and heady, intricate and kinetic and is a third different side to Slumber's great sound.
This is an auspicious way to mint a brand new label – a label that is sure to go on to great things, much like its parent outlet, under the knowing stewardship of Paul Loraine.
Tracklist:
1. Body Clock
2. Round Rose
3. Shooting Salad
Describe the track in 5 words…
Melodious, resonant, rhythmical, thoughtful, haunting
What is it about this record that will appeal to the fans?
We think this will appeal to our Fans because it is the most cohesive package that I we have made thus far.
How does it differ from your last release?
It differs because we feel it's more mature. Our production is still evolving.
What was the inspiration for this release?
The inspiration that comes to us (and we would say this anytime that we sit to write music) If the feelings that we feel at that moment. The tracks were made at different stages of lives. Body Clock was first written after a break up, "Body Clock" in the sense that your time is valuable, and not to tick my body clock. "Now he is only using my body clock to make his world bigger" "Please dont stop to click clock, my body clock" It is a very emotional, memorable track.
If you had the chance to play this in any club, which would it be?
On mountain top.
Soundcloud links: https://soundcloud.com/rhythmcult/rcd001-slumber-body-clock