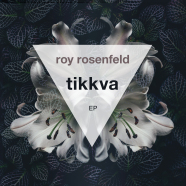 Apr

12
Tags
Related Posts
Share This
Record Of The Day…Roy Rosenfeld 'Tikkva EP (Systematic)'
Ahead of his new 'Tikkva EP' on Marc Romboy's Systematic Recordings, we sit down with Roy Rosenfeld to find out a little more on his thoughts when making the release…
Describe the record in five words?
Rays of hope, love & compassion 
What is it about the record that will appeal to the fans?
Taking the audience to a short trip with 3 emotional dance floor tracks which have been written with a lot of passion and appreciation for the music.
How does it differ from your last release?
My last release was a collaboration EP with my friend Guy Mantzur called 'Hidden Karisma EP' which has also been released on Systematic. 
This time it's a solo EP, touching on all my current musical inspirations in all styles of house and techno, mostly melodics.
A big difference is that 'Hidden Karisma EP'  had 3 peak-time tracks while 'Tikkva EP' has 3 tracks that can also be used in late /after hours of the night/morning
What was the inspiration for this release?
Maybe it was the season that time, cold winter sessions in my studio. But the other thing and probably the main one is a little bit personal, when it comes from the most important persons in my life.
If you had the chance to play this in any club, which would it be?
Warung (Brazil)
Roy's 'Tikkva EP' is available to pre order now
Get it here: http://classic.beatport.com/release/tikkva-ep/1994944