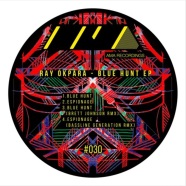 Jun

12
Tags
Related Posts
Share This
Record Of The Day…Ray Okpara 'Blue Hunt EP'
 A man who needs no introduction! We catch up with AMA Recordings boss and renowned tastemaker Ray Okpara to talk about his latest EP 'Blue Hunt' on the imprint. We find out more about the inspiration behind the release, how it differs form past releases and where he would love to hear the record…
Describe the record in five words.
A driving moody tool groover  
What is it about the record that will appeal to the fans?
i think the record will get to the fans cause it has a good hook & vocals. But the voxs are very filtered but still gives a good mood and the kick, high hats and bass work very well in all tracks, but to be honest, it's a bit strange to talk about my tracks. just please feel the same as i do
 How does it differ from your last release?
more challenging than the other releases i would say. But i can say that there will be the second listeners who will like it.
 What was the inspiration for this release?
Cant really tell but i was listening to a lot to Nina Simone that time. i am sometimes inspired, and i dont know that i am. But then you go to the studio and work on some samples/sounds and then it starts to flow and fill. 
 If you had the chance to play this in any club, which would it be?
panoramabar in 2007 <3 
haven't been there since a while. 2007 was just my year in "my love Berlin".
Blue Hunt is out now! Grab it here: http://www.junodownload.com/products/ray-okpara-blue-hunt/3441187-02/