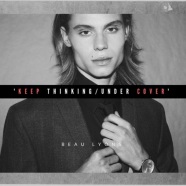 Feb

06
Tags
Related Posts
Share This
Record Of The Day – Beau Lyons 'Under Cover'
Here we have a unique cut form up and coming London DJ and tastemaker Beau Lyons. Taken from his latest EP, this a record designed to get your body moving and light up any dancefloor!
Describe the record in five words.
I think that it's naughty

What is it about the record that will appeal to the fans?
I think perhaps the combination of the garage-style vocals with a deep tech drop. I think that's what makes the track different. 
How does it differ from your last release?
Well this one of the first releases under the new alias; up until now I've been making a lot of hip hop and rnb, so the world of house is quite new to me and I'm loving it! 
What was the inspiration for this release
I'm a massive fan of percussion in house however it tends to be accompanied by a lot of melody and more of an upbeat  
style. I wanted to fuse it with something a bit darker and heavier. I think the drop has quite a simple but powerful impact and I hope that people will enjoy it as much as I do. 
If you had the chance to play this in any club, which would it be?
Hmmm… Amnesia or Hii, Ibiza! 
Listen to a preview here: https://soundcloud.com/beaulyons/under-cover-preview
Artist SC: https://soundcloud.com/beaulyons