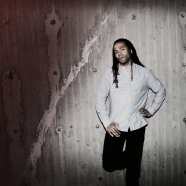 Aug

04
Tags
Related Posts
Share This
In depth with… Ray Okpara
Ray Okpara has been a stalwart performer over the years providing with instant bombs like Brainows. Pushing the clocks forward to 2015 his own imprint is now home to a gem or two with Marcus Nastic and Brodanse already to drop EPs on the label. Further more he has now released another stellar cut on his home away from home label Mobilee titled Rao Del Rani. Here Stu Todd sits down with the man himself about the track and his epic 18 hour sets with Mr Nastic.
How has your summer been so far? 
Hey Stu, the summer been busy and sweaty; there have been a lot of airports but generally I have so much fun playing many a destination around the world. Right now I am on my way to Sicily. Today is a early day, because my flight goes at 11:40am. Thats not to bad, considering that I will still have enough time to have a swim in the Mediterranean.
What has been your stand out gigs so far?
This summer I would say I had a blast at the Sonar shows I played at. The Mobilee and Fact pool parties were great and the Oslo Showcase in Boulevard was sublime too. I also enjoyed Sysiphos in Berlin; that was very surprising as well. I had great night there.
Your next release on Mobilee "Rao Del Rani" has just dropped, tell us a bit about the tracks and where the inspiration came from?
Inspiration happens with somehow without knowing when or where in came from. I started the tune, found a cool bass sound on my minatur moog and there we were with "Rao Del Rani".
'Close To Me' is more a 'stomper' tune, I like them tooly and with the 303 acid bass you can never go wrong. (in my ears)
How has everything been going over at your AMA label since you started it?
It´s been a great ride with my baby! I'm working with so many talented artists and of course I get to work with a lot of my closest friends in the music industry. Latest AMA022 is from Johnny D with a remix by Marko Nastic and an edit by myself. The next releases are from Hot City Orchestra, Brodanse, Ronan Protela.
Do you have any exciting signings to tell us about?
I will release an EP on Danse Club with Christian Nielsen, then more releases coming on Mobilee, Half Seas Over, Smiley Fingers, …
Tell us a bit more about your "It's Ours" party series? What do you feel sets yours apart from other parties?
It´s inspired by the poem by Charles Bukovski: "IT`S OURS"
Quote: Charles Bukowski once said, "Some people never go crazy".
What truly horrible lives they must live."
All the artists know each other and can play with each other b2b or alone. It´s my series so it comes with a touch of madness, togetherness and happiness. Musically thinking we have deeper tunes and much more longer sets to keep the groove.  Check us at Club Der Visionäre in Berlin with 18 hour sets. Ok that's Berlin, but in Mannheim at Zimmer I played 6h b2b with Marko Nastic and its was so sweet.
What do you have planned for the rest of the summer?
I will be hanging around in Mannheim, a lot of studio time, practicing my guitar, traveling around EU and some Russian dates just came in too. It will be a short summer as it is every year.
Ray Okpara 'Rao Del Rani' out on mobilee now. https://pro.beatport.com/release/rao-del-rani/1552187
Premieres can be viewed here -
http://www.xlr8r.com/news/2015/07/premiere-hear-a-new-kenny-larkin-remix/
http://www.mixmag.net/read/ray-okpara-premieres