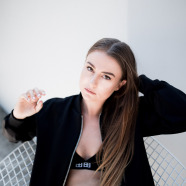 May

05
Tags
Related Posts
Share This
In Depth With…Made In Paris
We have the pleasure of sitting down with Australian tastemaker and label owner Made In Paris. Known for her enticing, dreamlike productions we find out more about her label, her inspirations and her plans for the future, ahead of her latest release 'Lost Perception EP' on her own Upon Access label…
1) So tell us, where did this all begin? What made you want to take your first steps into the world of techno?
I found a love for Electronic music in my early teen days. But it wasn't until I started producing that I found my love for techno. Everything I created had a dark feel to it, it just came natural to me.
2) What made you decide to launch Upon Access? What's the ethos of the label?
I wanted to create a platform to release my particular sound here in Australia and also other emerging artists creating similar sounds.
Our label thrives on Deep & melodic tech house and techno.
3) Can you tell us who/what are your main influences? Who is in your top 3 underground artists that inspire you?
Fur coat, Maceo Plex & Stephan Bodzin are big influences for me.
4) Born and raised in Australia, what is the underground music scene like there? How does it differ to the UK?
when I first got into underground music it was mostly just the main cities that had created decent scenes around it. But the good thing is that it's growing here in Aus, creating more opportunities for artists like myself.
5) Can you remember from growing up in Australia, what it was about the underground music scene that sparked your interest in becoming a DJ?
I had a growing love for electronic music and once I started getting involved in the club scene I was sold. I wanted to be creating that amazing atmosphere that DJs created.
6) Whilst the underground music scene use to be primarily male based, we have seen an increase in female techno artists over the years, why do you think this is? Did you as a female find it hard to get your foot in the door?
Starting out it was definitely hard getting taken seriously.. But I feel theres so many ladies in the industry proving that if you're in this industry for the right reason (For the love of music) Genre does not matter. Although it is a shame when women use there looks instead of focusing on the music.
7) From what we hear Lost Perception is a special release for you, tell us the story behind this EP and what the techno community can expect from this EP.
Well, it has been a while since I have released an EP. I worked hard on this one and i'm very proud of how it has turned out. I am excited to release it on my very own label, Upon Access.
8) Additionally, what summer plans do you have for the label?
We have a few releases already locked in filling up most of 2017 which are amazing. I cant wait to share them with you all.
We are also heading over to Berlin later in the year
9) With reference to this new EP, what are, if there is any, the main influences that inspired you into the making of this?
There was not really a main influence for this EP. I was getting idea's from so much amazing music at the time though
10) We hear that recently you've had plays from Sven Vath and Maceo plex, how did this make you feel? How important is that to you?
Hearing that my music had been getting played at Time Warp by these amazing artists, I was lost for words. It means the world to me having these two putting trust in my music and sharing it with the world.
11) Where would you like to be in 5 years time? Where do you want the future of underground music to take you?
I just would love to be traveling the world sharing my music, collaborating with other artists and experiencing other club/party cultures.
12) What is your current set up when you play? How do you look to expand your set up, is there any latest equipment that will benefit you as an artist?
At the moment my set playing out is just basic.. But in time I would definitely love to create a live set.
13) Lastly, define Techno in one sentence?
A beauty found in the darkest places.
Lost Perception EP is out 10th May 2017!
Facebook: https://www.facebook.com/MadeinParisMusic/
Soundcloud: https://soundcloud.com/made-in-paris
Resident Advisor: https://www.residentadvisor.net/dj/madeinparis
Beatport: https://www.beatport.com/artist/made-in-paris/291238