Jul

07
Tags
Related Posts
Share This
Glastonbury… In Review
Glastonbury (Worth Farm) – is that small rural town situated on the low lying Somerset levels which for one week in the year becomes the most famous place on the planet to pitch a tent, get out your wellies, and witness some of the heavyweight acts across every genre of the music scene imaginable. For those who have been before, you are lost for words on how to keep on re-assessing the extravaganza, whilst for the newcomers you are simply – lost for words!
It is without doubt the most creative and mind blowing music event that the UK has to offer and it really stepped it up this year – quite hard to believe since The Rolling Stones set yet another benchmark last year.
Whilst the bands were incredible – The Libertines hit us with their secret yet perfectly timed nostalgic epic, a truly emotional affair for those stepping back in time to the early naughties's; they even added in a few new gems which in turn hyped an even bigger return for 2015. The Chemical Brothers headline slot was simply sublime, full of anthems and throbbing bass heavy techno which garnered the largest Other Stage crowd of the weekend. Kanye forgot his words to the legendary Bohemian Rhapsody and I acquired a crash hat for the more hazy moments of my trip.
However I set my sights back to my routes, to the house and techno shows that were all finely tuned, well programmed and had mind blowing stackers and stage set ups to match. It was Circoloco who hit the heights on the Blues Stage on Thursday, with Nicole Moudebar and  Seth Troxler amongst their DC10 brigade taking centre stage on what was a mirror image of a Brazilian favella scene right out of Sao Paolo. We were also on hand to see wAFF, Heidi and Patrick Topping take over The Rabbit Hole. The hole where you have to crawl through, answer a riddle with a carrot and guide your way onto the dancefloor, quite the acid trip. The setting certainly married well with the bass heavy cuts that were on offer and got the audience truly warmed up for the marathon weekend ahead.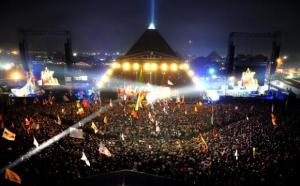 On Friday we were entertained by Gerd Janson who's disco ethos stole the show over at Beat Hotel. Stone Bridge offered a plethora of genres mixing Ben UFO, Joy Orbison, Hot Chip and Ben Pearce all into the fray. It didn't stop there as the jaw dropping Arcadia married Pan-Pot and Adam Beyer together a techno infusion that took us in the early hours. However it was Jamie XX closely followed by Super Furry Animals that were Fridays picks; Jamie hot off the back of his latest full length was on a mission with his deeper outlook while the legendary Welsh Wizards took us on a psychedelic acid trip even throwing an encore in their famous 'furry' costumes.
Saturday, the big one; we went all acid and took to the Shangri-La too witness Bez's very own Acid House Stage – we also caught a glimpse of Prosumer who simple doesn't disappoint and Four Tet who performed the Block 9; which, for those who don't know, is the industrial apocalyptic setting that mesmerises its onlookers with floating beams of light and  a dreary dark essence – something right out of the Blase Runner movie. Saturday however had the show stolen by Jon Hopkins who's live elements wowed the Park Stage in a headline capacity. The stalwart producer left no stone unturned and with abstract and non-cliche visuals to match this was a set that really rounded off a stellar dance line up for 2015.
Well worthy of a mention was Todd Terje who performed live at West Holts to a near capacity audience. Jamie XX was even in the mixer to cheer him on as Inspector Norse was applauded from start to finish.
Sunday was just as pulsing with a techno portrayal from Detroit finest Robert Hood who was using the packed Genesis arena to full effect. Of course it wouldn't be Glastonbury if we hadn't ended our week-end at The Stone Circle right up until sun rise, just as you do – a perfect way to finish off such an amazing festival that brings folk from all over our beloved planet together for a celebration of life, music, culture and debauchery!
 
Until next year that is…