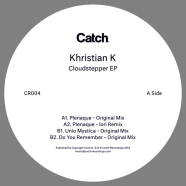 Mar

10
Tags
Related Posts
Share This
FREE Track Catch
Catch Recordings – With a forward thinking ethos focussed on finding something new and different, Catch Recordings are releasing a four track EP from Hungarian Khristian K. With releases on labels such as Lucidflow Recordings and Naked Lunch, Khristian is carving a promising path for himself, building a distinctive identity within the minimal techno world. The EP represents his deep understanding of the scene, presenting original pieces in addition to a remix by Japanese artist Iori, together giving a strong sound of Berlin.
To mark the release of their 4th EP, Catch are giving away the free track by Kristian K – Painted Stratoshpere here – https://www.mediafire.com/?g2fgy5or69nh4pb
You can buy the track on vinyl here also – http://www.phonicarecords.com/…/khristian-k-cloudste…/128283
---
Do You Remember (Original mix)
Effective drum snips accompany a steady but provocative rhythm, which combine with intimidating vocals and intriguing, almost alien FX to present a moody yet minimal track which builds a foreboding sound into a dark piece of almost industrial Berlin techno.
Plenaque (Original Mix)
Heavy focus on the bass from the get-go sets the platform for a muffled kick drum to evoke a sense of impending danger. Accompanied by effective synth layers the track bounces to a shuddering alien/deep marine sound, reminiscent of the productions DVS1 is known for.
Plenaque (Iori Remix)
Faster than its counterpart, Iori presents a solid more upbeat take, although remains with the distinctive synth layering. Through the constant presence of a chilling, almost clerical humming, the track progresses into a hypnotising electronic piece, yet staying true to its minimal roots.
Unio Mystica (Original Mix)
A mysterious beginning develops into a pure and rhythmic beat, which again meets a range of effective dark FX. The drawn out horns present an almost jungle like feel to the track, as if the Aztecs met the Berghain, carrying the beat through a threatening, enigmatic journey, characteristic of the EP's overall minimal yet intriguing sound.