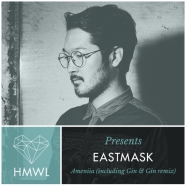 Jun

18
Tags
Related Posts
Share This
60 Seconds With… Eastmask
Electronic music is a global game these days. Everyone knows that, but it's still genuinely exciting when new producers emerge from places you'd rarely – if ever – have associated with the sound. One such man to do exactly that recently is Eastmask, a Seoul native who is fast becoming a pivotal cog in the HMWL story. We put some questions his way before his latest EP dropped on the Swedish label…
What's really exciting you about house music these days?
As trends are always changing and returning, I could see a lot of oldies coming out again these days, which I think it is great.
Tell us about the EP on HMWL. What inspired and influenced the record?
The Ameniia EP on HMWL is named after the label I run in South Korea. Unfortunately, it does not contain any meaning; it sort of just came out. It was actually written exactly a year ago when those deep bass sounds were popular and I am happy to see it is finally out on HMWL.
How do you think you have evolved and changed in musical terms since you first came involved?
I have evolved and changed a lot in musical terms since I joined in this scene. I can see myself that I am evolving while still travelling, various styles and genre. I believe that most producers are still changing spontaneously in music. Not because we are chasing trends but because we get inspired by random things.
When was the first time you came to Europe. What did you make of it all?
I first came to Europe in 2001 and was not much into "Electronic music" back then. I brought my acoustic guitar and was actually a singer. Then, in 2013, I started to produce electronic music. My first goal was to create easy but danceable tracks for most of people.
Do you think there's such thing as the 'underground' any more? Is there still one to be found in Berlin do you think?
Even that terminology, ''Underground'' has become overground these days. I only use that word to define or categorize certain style of music, that's all. However, there is more to be discovered in public and more will be evolved and become "underground".
Where do you think you're at with your productions these days?
Oh… I try what I can do but for me, my productions are still a grade 2 out of 10.
You tend to release nearly all of your music on HMWL. How did those guys first get in touch?
Let me think… I think it was a contact from Alex at HMWL after releasing "Eirene". Then I did a guest mix for HMWL and so on. I would be happy to see them in person soon.
Have you any plans for an album in the future?
I would love to. I don't have an exact plan yet but all the projects that I anonymously saved and have not released in my PC would make at least one album, I hope.
Do you feel the art of proper DJing is getting lost amongst sync buttons and Ableton technology?
No, I don't think that it is getting lost by those technologies. As we have/had the art of proper DJing in the past, I hope there will also be the different approaching of DJing in the future. (Maybe)
What else have you got coming up/are you excited about?
Since the end of February, I've been running a club called "Kammer" in Seoul. It was the smallest club ever in Seoul and the darkest and sweatiest. For 3 months we had great nights with so many guest DJs from all over the world. Now we are temporarily closed to move to bigger place in this summer. It does scare and excite me at the same time but it is positive. I can't wait to present a new place to people who love Kammer and who did not know.
Eastmask's Ameniia is out now on HMWL