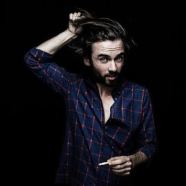 Mar

02
Tags
Related Posts
Share This
Roscius – WMD #1
Describe the record in five words.
Minimal / World / Classical / Organic / Techno
What is it about this record that will appeal to the fans?
The record puts classical and contemporary music into a dance spirit and structure.
The fact that it's recorded organically, with absolutely no electronics, makes it unique.
How does it differ from your last release?
This is actually my debut release! Previous works have only been from live recordings taken from improvised performances.
The process of producing these first tracks in the studio is quite new and exciting for me, especially when I come to think of working towards a full album.
What was the inspiration for this release?
Gouttes is one of the first tracks I produced. The idea came from a live performance I did in Dalston's Bunker (WWII) in 2013. Water droplets were falling from the ceiling and it created a weird rhythmic melody.
I recorded this atmosphere, and the huge reverb of these noises, created by the concrete walls. To add a bit of depth to it, I recorded some voice and sub noises inside a sculpture by Richard Serra called "Between the Torus and the spheres" during a visit to the Guggenheim Museum in Bilbao, Spain.
Finally I improvised some harmonies on an old Pleyel piano, on top of the droplets loop, and structured the whole thing into this "90's influenced" music composition.
I now use the same process with most of the tracks I produce.
Royal Albert Hall is made up of recordings of a contemporary choir rehearsing and claps (applauses) from the audience during their live performance.
I then played the tabla and percussions on top.
If you had the chance to play this in any club, which would it be?
I think it would sound pretty amazing in Berlin's Berghain. Although, I'm really into playing in unique and weird places, art galleries (in which I will release WMD1 's ep) in forests, or lost places. That's where I feel the most inspired to perform and improvise live!