Apr

25
Tags
Related Posts
Share This
Red Bull in review… The Spring UK Tour
Red Bull have been back on the road over the past month venturing to their spiritual homes of London, Manchester, Bristol and Glasgow for a highly anticipated series of events. Although I wasn't able to take in the full project I was on hand to witness some of the memories left behind at the London and Manchester legs. Covering all bases from Hip Hop to House and Drum and Bass to techno Red Bull have managed to capture inspirations from all and stamp ideas into the hearts of their onlooking audiences.
I kicked things off in London with ASAP Rocky who sat in front an open Renaissance Hotel to describe his journey into the frivolous world of HIp Hop with an eager selection of fans before him. Dating back right into his youth Rocky intertwined his New York routes with his passions marrying his portrayal of dark and mysterious times with ones of happiness that brought into the limelight at such a young age. Even Mos Def got in on act offering his knowledge and thoughts on arguably the most talked about artist on Hip Hop market to today. There were special mentions for the London grime underworld that has even turned heads over the pond. A sure site that Red Bull, the Grime industry and most of all the artists who front the scene have flown the flagged accordingly. A great insight.
Switching genres rapidly on the London attack, we head to the Julio Bashmore seminar which part of the Studio Science brand. Nostalgically taking place in the studio where the Bristol spinner curated his forthcoming album Bashmore guided us into a simple spin on the world production with his Ableton set up, his 808 and his effortless use of Youtube that have joined forces over the years to bring the likes of Au Seve. The man behind the Broadwalk imprint was quickly at ease to generate serious positivity on his interested surroundings by comforting them with uses of his set up and methods of madness. It was certainly an interesting approach and one that caught the eye of his questioned crowd. Bixby even added in some melody and vocal to an example track that wowed the audience. A true highlight amongst the tour. (See my interview with Julio from last week)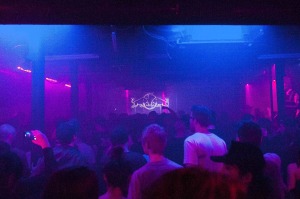 Moving over the Manchester leg were all bases and clubs were covered once again, I managed to club hop and take in the sights and sounds of Omar S and Derrick May. Flying the flag for both respected the events the two veterans of the game applied their trades with extended sets at Sankeys and South clubs. South was home to Omar S who fluttered between his classy house background and some heavier techno cuts which were a sure fire hit on the club. The vinyl enthused set also became a collection of his own work which raised those arms high and far. Whilst at Sankeys Derrick May blended a fine techno stomper onto his folk whilst wrapping up the show was Leeds diamond in the rough Happa who has being wowing festivals like DGTL as of late. A truly quality outing that stamped Red Bulls authority in the illustrious city of Manchester.
The only downfall to my Red Bull review is that I couldn't make more of the shows! There was an insight into why it is the brand of the now and why they are always on the look for young and fresh talent and there can always be a viable option to create your own career path. It was an inspired performance all round which had great music and amazing hospitality.
Find out more about the Red Bull Music Academy – http://www.redbullmusicacademy.com/