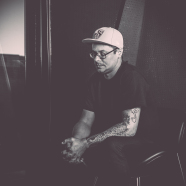 May

31
Tags
Related Posts
Share This
Record of the day… Rogerio Martins / Otherwise Known
Artist: Rogerio Martins
Title:  Otherwise Unknown
Label: Piston Recordings
Release: vinyl 07/05, digital June 2015
Cat. No. PRV2015006 vinyl + PR2015167 digital
Format: Vinyl/digital
Piston Recordings was launched in 2007 by Rogério Martins to fill the void in Portugal's independent dance music label market. It is dedicated to young and fresh new talent and now the boss himself steps up with three great originals and a killer Kris Wadsworth remix.
Martins released his first record more than a decade ago now, and since then he has released on Eyepatch Recordings, Jackmoves, Troia Recordings and Azuli as well as putting out plenty of great originals and remixes on his own Piston Recordings. In 2014 his hit single
'Gonna Be Mine' received critical acclaim, being supported by artists like Dan Ghenacia, C-Rock and many more, and since then his DJ profile around the world has continued to grow. Up first on this altest release is 'Otherwise Unknown', a bumping house cut with fat drums, old school pads and a sweaty sense of groove. 'We Like To Party' is another firing dance floor filler with tooting New York chords, slinky percussive grooves and vibes aplenty.
The last original is '1994', and the title tells you what you need to know – this is a full fat, booty shaking house with vocal stabs, a rolling bassline and shades of Kerri Chandler all bottled up in the atmospheric arrangement.
On the remix of 'Otherwise Unknown' is American bad boy Kris Wadsworth, who has released EPs and LPs on Get Physical and Hypercolour and has a really unique sense of style. His version is solid and firmly rooted to monstrous kicks, with little trumpet sounds and dark vocals all adding to the intensity.
This is another fine release that spreads the sonic remit of Martins and his Piston label even further than before.
Tracklist
1. Rogerio Martins – Otherwise Unknown (Original Mix)
2. Rogerio Martins – We Like To Party (Original Mix)
3. Rogerio Martins – Otherwise Unknow (Kris Wadsworth No Bible Remix)
4. Rogerio Martins – 1994 (Original Mix)
Describe the record in five words.  
Dancefloor vintage House with a twist.
What is it about this record that will appeal to the fans?  
First of all being a vinyl release on my label should already be somewhat appealing as we only put out 2 or 3 records a year and always in very limited numbers. Second it has a top notch Kris Wadsworth remix and that is always a winner, at least in my humble opinion.
How does it differ from your last release?   
I tried to go a slightly different angle this time, techier and thinking more on darker dancefloors with the main track Otherwise Unknown. 1994 and We Like To Party are what i normally put out and let's say closer to my trademark sound, to what people expect me to produce in a way.
What was the inspiration for this release? 
Vintage dancefloors. 20 years ago i was partying hard, the 90's were the new 60's and the real summer of love in Portugal was not 88 but rather 94ish to the majority. I was also starting out with my first dj gigs those days, so i tried to look back to that time and bring some of that simplicity to today's sound.
If you had the chance to play this in any club, which would it be?  
This one is fishy! Really hard to select one club/night from so many good ones all around the world these days, but let's go with Concrete, Paris. They have been putting out stormer line-ups and the vibe there is always the right one.
 https://soundcloud.com/rogerio_martins/sets/rogerio-martins-otherwise