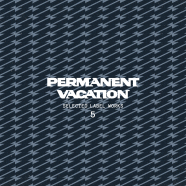 Apr

07
Tags
Related Posts
Share This
Record of the Day… Permanent Vacation Selected Label Works 5
Permanent Vacation have been churning out slow burning underground bombs for some time now and their releases have found their way in to a huge array of top selectors sets. Selected Works 5 is just that, a hand picked selection of some of their prime cuts from the last few years. For me, this album is packed full of the kind of tracks that could easily define a DJ's set and change it from average to highlight status with one of these carefully crafted tracks. Celebrating it's 10th anniversary later this year, let's see what Permanent Vacation has been up to recently….
What always attracts me to a Permanent Vacation release is the originality of the sounds, not worried about fitting with current trends, Permanent Vacation relies heavily on it's roster of artists to deliver something slightly out of the box and at times, more than a little left of center. This VA is very much all killer and no filler, kicking off CD 1, Barnt's remix of "Alex Burkat – Pay the Rent" loops the original vocal effortlessly over sublime jazz flute and Lord of the Isle's "301C Symphony" skips rounded basslines around huge hats like they were putty.
Irish act; New Jackson provides the first of his 2 forlorn musings in "Made It Mine" and he certainly has. One of the many highlights of this 22 track VA comes from PV mainstay -Mano Le Tough, with "I See Myself In You" he turns in a spectacular effort that would easily raise hairs on your arms at any time of the day or night. Special nods also go to Daniel Bortz & Sascha Sibler's epically titled "Tomorrow We Start a New Life Again", "TB – City Girl" and of course "Drvg Cvltvre – Night Time is the Right Time". In fact most of CD 1 gets a massive nod from me.
Reading this, it is clear that I am biased, as I am a massive fan of the label and most if not all of the individual artists that call Permanent Vacation home. Favorite's here come thick and fast from the off, Lauer's "Ward" especially tickled my fancy. Complete with arpeggiated basslines, blissed out organ chords and a real sense of euphoria that few artists can consistently deliver in their tracks.
In most part, Permanent Vacations' output effortlessly provide this in spades with out giving the holier than thou impression. For me, this collection of tracks is as honest and emotionally driven electronic music as you will find, Thomalla's "Funfair" and Lake People's "Brooklyn" I'm looking at you. New Jackson again represents Ireland in the best sunset record category with one of the picks of the release in "Having A Coke With You".
Listening to Selected Works 5, I really feel like I am on a permanent vacation, with its airy, chill inducing moments, all the way up to the heady heights of a full on club and back down to the after math. This release will certainly capture your imagination and hook you in for many releases to come.
Tracklist
Disc 1
01. Alex Burkat – Pay The Rent (Barnt Remix)
02. Lord Of The Isles – 301C Symphony
03. New Jackson – Made It Mine
04. Woolfy vs Projections – Combination (Benjamin Fröhlich
Spooky Edit)
05. Dollkraut – Fire
06. Drvg Cvltvre – Night Time Is The Right Time
07. Lake People – Uneasy Hiding Places
08. TB – City Girl
09. Locked Groove – Thesseus
10. Mano Le Tough – I See Myself In You
11. Daniel Bortz & Sascha Sibler – Tomorrow We
Disc 2
01. Midnight Magic – Same Way I Feel (Session Victim Remix)
02. Lauer – Ward
03. Thomalla – Funfair
04. Dollkraut – Fire (Invisible Conga People Remix)
05. Lake People – Brooklyn
06. Daniel Bortz & Sascha Sibler – If Not Tomorrow Maybe
Someday
07. The Drifter & Benjamin Fröhlich – Waterville
08. Lord Of The Isles – Co2o (6mins)
09. North Lake – Prism
10. Tuff City Kids – Lambsgame feat. Shan
11. New Jackson – Having A Coke With You
Permanent Vacation Selected Label Works is due out on 8 April, but if you can't wait you can pre-order your copy here.