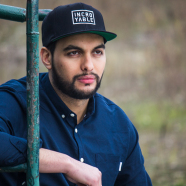 Feb

02
Tags
Related Posts
Share This
Record Of The Day: Fennec & Wolf – Cassini EP
Artists – Fennec & Wolf, Kevin Over, Boy Next Door
Title – Cassini EP
Label – Incroyable Music
Release Date – Out Now
Fennec & Wolf has put up an interstellar-deep-house-track and named it after 'Cassini', an unmanned spacecraft sent to Saturn. The producer, DJ and co-founder of Incroyable Music
took the homage to the spaceship pretty seriously: he used atmosphere sounds of Saturn that Cassini recorded during its voyage through space and time.
Fennec & Wolfs original sound imparts the feeling of participating in the travel through the atmosphere. A dance on Saturn with driving synth plays and a focussed rhythmic arrangement that keeps you drifting and turning.
Kevin Over plays with the bass phasis and gets along the more handclapping and vaster in drums and rhythm but alway stays with the deepness of the dark sky the spacecraft dives into.
Berlin-based Boy Next Door makes 'Cassini' a faster track with a more techy range of sounds but still builds tension that is terminated with a bass & synth hit like a supernova explosion.
Full EP Tracklisting:
1) Fennec & Wolf – Cassini (Original Mix)
2) Fennec & Wolf – Cassini (Kevin Over Remix)
3) Fennec & Wolf – Cassini (Boy Next Door Remix)
Describe the record in five words
Intergalactic, melodic tech-house journey into the future.
What is it about the record that will appeal to the fans?
I think it's the energy that comes with the track, the break and the melody.
How does it differ from your last release?
My last solo release was in summer 2015 and I was inspired by sunny weather and great vibes due to the festivals season. I made a really funky tech-house track called 'Cocoon'.
What was the inspiration for this release?
Clicking through the sample library that Nasa has offered for download and hearing the sounds recorded in the atmosphere I tried to empathize with the machinesand robots out in space and thought about how such a huge system in space can be controlled from earth
If you had the chance to play this in any club, which would it be?
I'd prefer to play it on a festival, namely the BPM festival, I would love to visit there.
Here is a Soundcloud link to the original track…
'Cassini' EP is out now on Incroyable Music, available here.