Jan

25
Tags
Related Posts
Share This
Record Of The Day: Dandi & Ugo – Totally Indigestible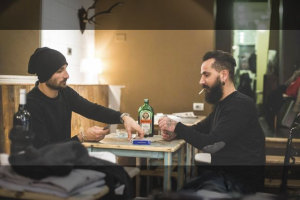 Artists – Dandi & Ugo
Title – Totally Indigestible
Label – Opia Recods
Release Date – Out Now
Opia Records races to release number six and this time turns to Dandi & Ugo for the beats. This talented pair cook up a brilliant original, Totally Undigestible, and get remixed by Konstantin Yoodza and Jill Bellac & ASI to great effect.
Dani & Ugo are an Italian pair who run their own Italo Business label. They have been making beats for a decade now and have turned up on fine labels like Great Stuff, Artminimal Berlin, Gain Records and many other labels having put out tens of brilliant EPs. This new one is no different.
In original form the track is a deep and rubbery techno roller. It is high pressure, with slick percussive ticks peeling off from the firmly rooted, burrowing groove. Little synth stabs and late night flashes of melody add some colour but really this one is all about techno hypnosis.
The remix from Jill Bellac & A.S.I. is a much more wonky, weirded out bit of house music with freaky voices, lumpy drums and slithering synths that make it truly charming and off kilter. Finally, Konstantin Yoodza then flips the track into a mysterious and cavernous bit of late night tech with searching, spaced out synths, dark cosmic energy and a powerful groove that will really sweep up dance floors and carry them away. Overall, a fine EP once again that will no doubt get played at the labels next party at Hangar11 Club Winterthur, Dec 24th 2015, with Konstantin Yoodza, Max Bett and Jill Bellac.
Full EP Tracklisting:
1)  Dandi & Ugo – Totally Indigestible
2)  Dandi & Ugo – Totally Indigestible (Jill Bellac & A.S.I. Remix)
3)  Dandi & Ugo – Totally Indigestible (Konstantin Yoodza Remix)
Describe the record in five words.
Techno, mysterious, hypnotic, dark, indigestible.
What is it about the record that will appeal to the fans?
I think our experimental side will be interesting for fans and surely the hypnotic synth and straight kick will have a nice effect " journey " on the floor …
How does it differ from your last release?
Ultimately we produce techno " straight " and a little bit harder … This, as I said before, is a very experimental project of which we are proud and therefore thank Gilles and OPIA for having believed from the beginning!
What was the inspiration for this release?
The inspiration for this project comes in part from Rodhad techno style and partly to the mysterious sounds that Hawtin proposes in its release.
If you had the chance to play this in any club, which would it be?
No matter where … in a car too! but with someone who is willing to listen!
Here is a soundcloud link to the track…
Indigestible EP is out now and available here.