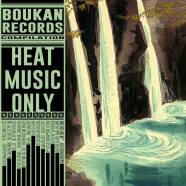 Jul

10
Tags
Related Posts
Share This
Record Of The Day – Boukan Records Volume 1.
We have the pleasure of briefly catching up with diverse French tastemaker Bamao Yendé to celebrate his own esteemed Boukan Records imprint's recent V.A. titled Boukan Volume 1: Heat Music Only. We find out more about the record from the man himself, it's appeal to the fans, how it differs form their last project and more…
Describe the record in five words.
Percussive, Rhythmic, Warm, Eclectic, coherent.
What is it about the record that will appeal to the fans?
A diverse range of tracks, that stay consistent despite their different registers.
How does it differ from your last release?
We kept the same artists who are mainstays on the Boukan label and invited a few guests with whom we like to work.
What was the inspiration for this release?
There was not really theme, but i think we are all at the same level of rhythm. Whether Afro or break beat, percussion still occupies a large place in the track.
If you had the chance to play this in any club, which would it be?
I do not know if it would be a club, but rather festival near the coast, beach atmosphere or ideally near a freshwater shore.
Boukan, Volume 1 is out now! Buy it here: https://www.beatport.com/release/boukan-vol-1/2326028