Feb

25
Tags
Related Posts
Share This
Piknic Electronik Dubai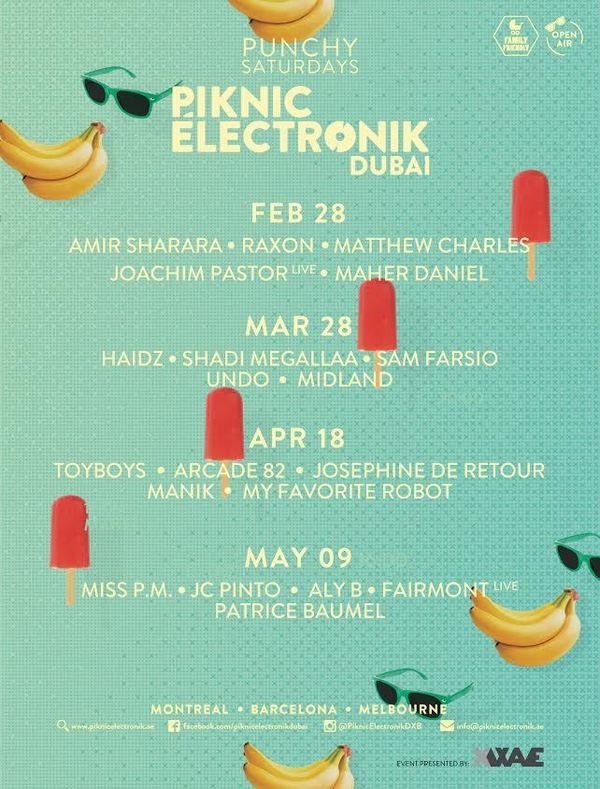 Global brand, Piknic Electronik have been throwing parties in Montreal for the last 10 years and have become a staple of the Sunday party scene. Having recently branched out to Melbourne last and having also thrown events in Barcelona Piknic have upped sticks and set up shop in Sports City, Dubai for a 4 week stint.
The action kicks off this Saturday 28th February 2015 and Picnik have pulled no punches on their opening party. Headlining the launch party is Joachim Pastor who will be performing live and Maher Daniel. With Dubai having such a wealth of local talent each party will feature supporting sets from the best residents from Dubai's burgeoning scene. This falls to Raxon, Matthew Charles and Amir Sharara (28th February), Sam Farsio & Shadi Megalla (28th March), Arcade 82, Toyboys & Josephine De Retour (18th April) & Miss P.M, JC Pinto, Aly B (9th May).
The following parties will feature performances from Midland & Undo (28th March), My Favourite Robot & Manik (18th April), Fairmont (Live) & Patrice Baumel (9th May).
What makes these series of parties so appealing, apart from the mouthwatering music, this is very much geared towards families. With under 13's entering the festival for free when accompanied by an adult and Piknic offer a musical experience for the whole family to enjoy.
Piknic Electronik Website
Piknic Electronik DBX