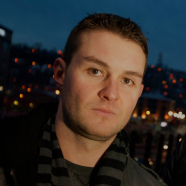 Mar

11
Tags
Related Posts
Share This
G-H Azimuth – Record of the Day
Describe the record in five words:
Pressure, Vibe, Groove, Rhythm & Bass
What is it about this record that will appeal to the fans?
This tune brings together the more energetic side of the album, and is definitely going to be more directed at the dance floor than some of the other cuts found on the LP. I think the slowly building pressure and tension are my favorite parts of this track all told.
How does it differ from your last release?
My last release, 'Tell Tale' was a much slower piece, centered around a downtempo feel. This is certainly an area that I love to explore, but Azimuth takes a hard turn into more energetic territory than I have been recently production wise.
What was the inspiration for this release?
I really wanted to put together a set of original tracks that spanned all the genres and areas of sound that I enjoy producing, while still having enough continuity to mix/play well together. I have always enjoyed programming the track lists for sets and mixes, but this project was an opportunity to not only program songs IN the mix, but to actually program the individual songs themselves
If you had the chance to play this in any club, which would it be?
That's a tough one, as there are so many incredible venues around the globe these days, but if I had to choose one I would most likely go with Amnesia in Ibiza.