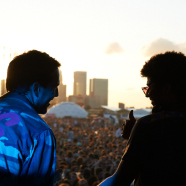 Mar

30
Tags
Related Posts
Share This
Behind The Promoters Eye… with Rob Star
So as we approach festival season, EQTV will be running exclusive interviews with owners and promoters of some of the UK's most prestige and best loved events throughout the summer.
To kick things off we chat to Rob Star of Eastern Electrics about his summer shenanigans.
Tell us about the festival this summer and your choice of programming?
The main stage speaks for itself in terms of the line-up, some of the biggest names in house and techno thrown in with some of the stars of the future. We've also got Normski hosting the main stage this summer, which will be lots of fun.
With the stages I try to pick a diverse range of acts, labels and promoters who can bring something different musically but who are all at the top of their game, and this year is definitely our best line-up yet.
I booked Skream two years ago and wanted to book him for the Rinse stage last year, so having him host his own stage is perfect, he always brings the party and has meant we've got a more techno element to the line-up with Floorpan and Boddika.
Black Butter are one of the most exciting record labels in the UK and with EZ, Mele and My Nu Leng, they are representing a sound that you probably won't hear anywhere else on the day. I'm so pleased that those guys are on board.
Sankeys is a club that I have had a long relationship with, having first been to the club in Manchester almost 15 years ago and put on a series of events at the club in Ibiza with mulletover, so it made sense to have them as the club partner. I also had to get Steve Lawler back after he smashed the main stage last summer and as his VIVa Warriors night is at Sankeys so it made perfect sense.
Glorias have managed to pull together an amazing line-up with TEED, Lil Louis, The 2 Bears and Severino – it's our little corner of gayness, so expect some amazing music, loads of trannies, mirror balls and maybe a roller disco?
Kubicle will also be going down a disco vibe in the VIP area, with some bigger acts playing one-off disco sets, they represent everything that's great about clubbing in London.
Last but not least we chose tINI and the Gang to host the Switchyard, this has become a pretty iconic stage over the last few years, so it needs a crew that represents the underground, but still have an amazing party and those guys with their beach parties in Ibiza certainly fit that bill.
Is there anything extra special that you've added to this years show?
I have got the Magic Door guys coming down from Birmingham. They don't announce their DJ's (even though they have had some big acts play) people go for the production, the crowd and the vibe and they sell out every time. They will be in a secret part of the site and you have to be invited in, so look out for the people with the magic beans if you wanna experience it!
We have invested heavily in the use of RFID wristbands for the first time this year, which will allow customers to have a much better experience while they are at the event, reducing queuing and meaning people aren't wasting money buying drinks tokens that they don't use. We're very excited by that!
As a punter who you looking forward to seeing and why?
I'm most looking forward to seeing Mike Skinner play, I bought all The Streets albums and have seen him live loads of times, so personally I was really pleased to book him for a DJ set. He's also playing in the pub where there is always a great vibe.
What's your overall take in the UK Festival scene and where do you see the future lying?
Obviously there are lots of festivals, maybe too many, but as long as people keep pushing the boundaries and people continue to be excited by events then they are here to stay. I think the future is in events where there is equal emphasis on the production and the non-musical experience as there is on the artists
Do you have any goals for the festival that you as an organiser have set for yourself?
My goal is always to put on an amazing event, obviously the more tickets you sell, the more creative you can be with the line-up and the production, so first and foremost we want the event to sell out. But we also want to make sure that the people come back the following year, and the year after that, we're here for the long haul!
And finally a bit of fun, if you weren't doing your festival, what others would you be checking out?
Glastonbury and Burning Man are my two favourite festivals, so I go to Glastonbury every year and Burning man every few years. One that I haven't checked out yet that is on my hitlist is Gottwood, heard lots of good reports and I always like the line-ups, so maybe I will get to that one this year as well!
Eastern Electrics tickets are available here – http://www.easternelectrics.com/