Feb

17
Tags
Related Posts
Share This
5 Minutes with….De La Swing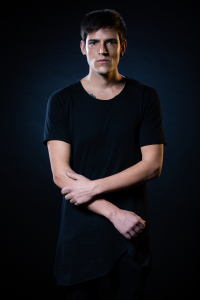 El Row resident and label boss De La Swing has been making some serious noise on the international circuit lately and with his new remix on El Row Music just dropped, we find out more from the man himself….
How has 2016 started for you? Do you have any New Year's resolutions?
Hello guys! This year started with the right foot for me, I'm anxious to get to work in the studio every day, with well-defined goals like only producing original tracks and one collab as maximum, and hopefully get to sign the tracks in big labels… In a few words, get myself known as a good producer.
El Row is taking off in a big way around the world, what parties in new destinations are lined up for 2016?
El Row has been growing stronger each year; I think right now it's being the best moment both national and internationally-wise for ElRow. There are big things coming up this year, but that's sensitive information I think is best being released by ElRow's staff. But I can guarantee that very interesting news are just about to drop…
How was BPM festival this year?
This year's BPM edition has surpassed all expectations… I think ElRow's DNA left its mark on each and every one of the people attending. There was a lot of Mexican crowd – that I think didn't know very well who we were last year – joining us from the beginning till the end of the parties and that's something we value a lot. We had a lot of fun and the vibe was the best. I think we put a step forward for the future of ElRow's brand in Playa del Carmen.
What has been your best El Row party to date? What made it so special?
I would say last Carnival, both at elrow (Barcelona) and Fabrik (Madrid) were amazing. I'm still vibrating after my closure at Fabrik, I keep receiving good feedbacks, and everything was perfect: the décor, sound, lightning, and a devoted crowd from the beginning till the end. I'm very happy that all the hard work is paying off.
Your remix of Danniel Selfmade's "Im Not Spik Spok" has just landed on El Row Music, tell us a little bit about your mix? 
I really respect Danniel Selfmade's work, he is a constant and perfectionist producer and I really wanted to remix the main track of his EP. I used a Moog Sub 37 for the bassline, a Roland TR-8 for main rhythm, the Moog Minitaur for some FX and the sounds and voices are taken from a sample pack. I work in my new studio, located at Marina Street, in Barcelona.
What else is coming up on El Row music this year?
The fact is ElRow Music hasn't stopped bringing good news since the year began. I've received amazing demos from a lot of artist, many of them from the UK, which is the kind of sound I'm seeking to highlight in the label now. We have a new brand image designed and we will present it in June, along with a Philip Bader's release.
As and advance, I can say that we've signed strong releases by Pete Dorling, Javi Bora, Wade, Apollo 84, Ki Creighton, Solardo and some others we'll confirm soon.
You have been making quite a name for yourself in the last few years on the global stage, what has been your break out moment? Or is it yet to come?
As we all know, a DJ's career is a distance race, a slow and tough path in which you need to take advantage of each of the opportunities given to you as they were the last. You need to keep your eyes wide open and don't fall into the monotony of doing the same thing over and over again. You need to evolve, to always know what the crowd wants and to adapt yourself to the dancefloor. I'm convinced that my dates in the UK are part of a good moment that is boosting my career, but I keep working every day, because I think (and hope) my break out moment is yet to come.
What do you have planned when you make your UAE debut in Dubai later this month?
I've been a long time with the word 'Dubai' in my mouth and I'm quite excited and anxious for my debut over there. I've heard very good things about the city, the venue, Decibel, and I really like going to new places and satisfying new crowds. Last week, my friends Los Suruba sent me a picture of a poster with my face on it when they arrived to the hotel and that gives me a very good feeling. Hope to see you the 19th!