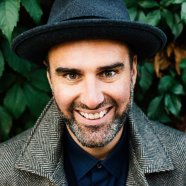 Sep

08
Tags
Related Posts
Share This
5 minutes with Bill Patrick…

Dubai outfit Plus Minus continue their run of top notch parties with another on point lineup. Stu Todd catches up with US DJ Bill Patrick ahead of his return to the Middle East…..
How has your 2015 been so far Bill?
Very chill, relaxing, maintaining low stress levels.
You have featured heavily in Ibiza this season for the big players, what has been your standout show so far?
Music On is always a standout. Playing for Marco on that Amnesia terrace is pretty special. I also got to play for Luciano, b2b with Cesar Merveille in the main room at Space, which was a lot of fun.
With electronic music being dominated by dj/producers, what is the secret to your success?
Not compromising my sound. Playing what I want to hear. Not following trends. Actually taking the time to actively search for music, go record shopping
and really dig instead of relying on promos.
Can we expect Bill Patrick productions any time soon?
Probably not.
Being a long standing resident DJ, do you see the art of the warm up dj being lost?
I remember playing in Italy recently and these two guys were opening up playing this super big sound, you know, that trendy man-trance shit with vocals and synths. They are just loving themselves, hands in the air, having their magic moment, "killing it." It was awful. I told the promoter, you need to sort out your warm up DJ's cus those guys sucked. It's just the way the scene is these days. DJing is about making lots of money, becoming a superstar, following the trendy music, getting
a feature in some terrible magazine like Mixmag or making a Top 100 poll. Actually being passionate about your craft and doing something original is very low on that list. I can sit here and complain about it and sound like a grumpy old man but honestly I don't give a shit about these type of Dj's. They all have a shelf life.
It has been around 5 years since you were last in Dubai, What is your impression of the Middle East electronic music scene?
Well, my last gig in Dubai was decent. I wasn't expecting a musically intelligent crowd so my expectations were kinda low. I am aware of what is happening in most cities before I go play there. I am expecting this gig to go a little better. If you have me on a bill with Livio & Roby then I'm assuming the promoter and venue have a somewhat heads up crowd. So let's see.
What can we expect from you when you turn out for Plus Minus?
Good music.