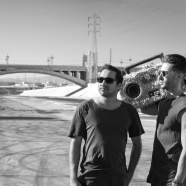 Jul

11
Tags
Related Posts
Share This
5 Minutes With… AEONIX
Having released a number of times on the Kallias imprint, LA based production and DJ duo are fast grabbing the attention of the electronic music family. The most recent appearance was on the Sonar Compilation, where they featured three productions – two originals and one remix. We caught up with the guys at the start of the month and jumped deeper into the AEONIX world.
So we're right in the midst of the summer party season, how have you been spending your time?
We wish we could enjoy the party season more, but with all that's been going on, we've been spending a lot of time in the studio. Although, we were both in Venice Beach on the 4th of July to blow off some steam with our fellow #muricans.
We're certainly seeing a lot more of you, getting a lot of love from the bigger names out there especially with you recent releases on the Kallias imprint. You had three productions on their last compilation, tell us a bit what went into each of those tracks.
Ya! Things have really been going well. With the Lars Moston Remix, we named it after the feeling we got while working with the stems. The lead keys made us feel like real space cowboys riding our chariot through the starry sky J
Dancing on Mars just felt right when we made it, from beginning to end. We loved all of the ideas we bounced off one another and we think it shows with the finished product. Hopefully we can play it one day on mars (Crossing fingers). Kallias then decided to ask Nils Hoffman to come on board for the remix, and he did a really great job turning it into a club-friendly track.
You have released a number of times on this imprint, what is it that makes your sound so suited towards Kallias?
We feel like all of the artists on Kallias are very thoughtful in their sound. This is something that is a staple of our production.
Can we expect to see more from you on Kallias? 
Yes you will! We will be making the Sonar Compilation mixtape, and also have a remix of "Chloe" coming out soon from Birds of Mind on the imprint.
What are the positives and negatives of working as a duo. Do you feel that it gives you an edge over solo artists?
Weighing out the cons will just slow us down; we look at the pros of working together constantly, as having 2 bodies to fuel creativity helps give an extra spark into things when you hit writer's block. It also helps in finishing things, because if one of us is busy then the other can step in to do whatever needs to be done in the studio. Sometimes we disagree on stuff, we are human, but we always make light of each and every situation.
Do you both take on separate roles when working in the studio?
We are constantly trying to make one another better at all aspects of production and are always sharing new tips and ideas. Jonnie's strengths lie in sound design & production mixing, and has a lot of fresh new ideas and ways of doing things that are sparking new life into all aspects of our productions. While Johnny on the other hand, has more experience in writing music and scoring film & television, so he has some interesting ways of developing ideas. I don't think we have different roles per se, as we can both handle pretty much all aspects of production; it just depends who is behind the console at the time.
Let's touch a little on the live side of AEONIX, how do you undertake a show, is it simply a b2b or, like in the studio do you delegate separate roles? What is the technical set up?
Our ideal live setup which we are developing would be us switching roles with all live synths, loops, drum machines etc. When we played the Robot Heart bus at Burning Man 2015, we mixed B2B with Josh Royse singing inside the heart. That was pretty epic. We always try to incorporate live elements into our performances whether it be vocalists, FX processors, keyboards etc.
Where can we expect to see you guys playing over the next couple of months? Are there any gigs that really stand out for you as a major show?
Jonnie will be performing as AEONIX at Sisyphos in Berlin on July 24th. That will be a big one. And we can't wait to get back to Burning Man as the most magical shows always happen there
Heading back to the production side of things, whats next from you guys? Which labels can we expect to see you on?
We are releasing our "Medicine Songs" EP on Cenote Records in the coming months with some really big remixes accompanying it. We also have a remix we did for "Norma" from Birds of Minds coming out on Akumandra soon. I'm sure there's more we're forgetting to mention, but we got some deadlines to wrap now!
Finally, who would be your dream artist to work with in the studio?
MaceoPue = Maceo Plex + Rampue. Might have to tweak the name a little bit

The Sonar Selection is out now and available to buy here.