Dec

03
Tags
Related Posts
Share This
22 years of Hard Times…
To celebrate the milestone of their 22nd birthday Hard Times favourite Kenny Dope Gonzales, one half of the legendary Masters at Work who played on their first birthday all those years ago in Huddersfield.
Kenny is one of the most prolific artists of the modern music age who was amongst the first wave of house produces from New York. Four times Grammy nominated, has been entertaining and astounding the masses alike for over 20 years.
In 1990, Kenny and Louie Vega began a creative partnership appropriately dubbed …"Masters At Work". As the MAW sound became prominent and pervasive in the clubs, they became more sought after by artists and labels, eventually remixing artists such as Michael Jackson, Madonna, Daft Punk, Barbara Tucker, India, Soul ll Soul, Donna Summer and many-many more.
Joining Kenny and making their Hard Times debut is the excellent Detroit Swindle, hailing from their home town of Amsterdam formed in 2011 by Lars Dales and Maarten Smeets. The Dutch production duo and owners of the Heist Recordings music label recently recorded an instalment for BBC Radio 1s Essential Mix been an exciting new talent they are on top of their game and will be returning to Leeds after their appearance at Patterns Festival in June.
Here we take a look at the history of Hard times with a series of sublime images from head honcho Steve Raine.
Hard Times through the years.
This was taken just before we opened our doors on the very first night back in 1992.
The very first flyer with Robert Owens topping the bill on our very first night.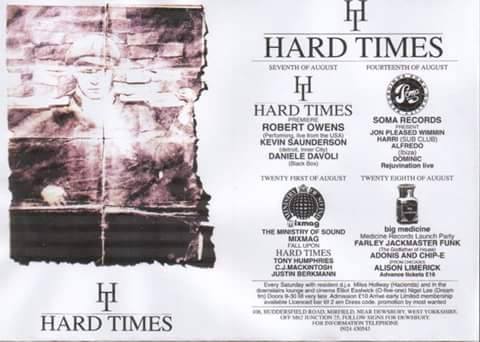 We had our own style of design that stood out from what everyone else was doing at the time.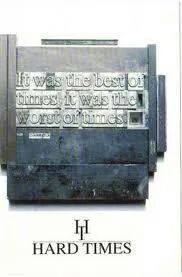 Love from the magazines. It was always nice to see the respect and love we got from various publications. This is an early feature that appeared in the cult magazine The Face.
Down and out in London Bagleys film studio Kings cross this was the first party of its kind of its time and set the standards never before had a collection of DJs played in one night under one roof before.
Here we went on to win Mixmag club of the year which at that time was massive, Ministry of sound were 2nd and Cream were 3rd.
We were one of the first clubs to have our own record label and this was our first club compilation which set the standards for what was to come.
This picture of Roger Sanchez was taken in Brooklyn just before the release of our 'Roger Sanchez The Album'.
Myself (Steve Raine) Dave Elliot and Dave Beer having a meeting ahead of our 10th Birthday with the Masters at Work.
After a long time off from the first party we had to host another and this was with my good friend David Morales.
Moving back into London after so many years it had to be special. So we made it s special with the the Three Kings of House.
Myself looking out at our Three Kings party, I knew then I must follow my dream again it was fantastic.
Myself and good friend David having a laugh just before it started.
We followed on with another legends party in London.
We started our year with Roger Sanchez before jetting off to Ibiza.
Was brilliant to see our name up all over the Island.
Opening night went down well.
Loved the line ups and the artwork was a perfect match.
Before we new it our season was over.
We then head straight back to The Mint Festival. Seeing everyone after being away was so good.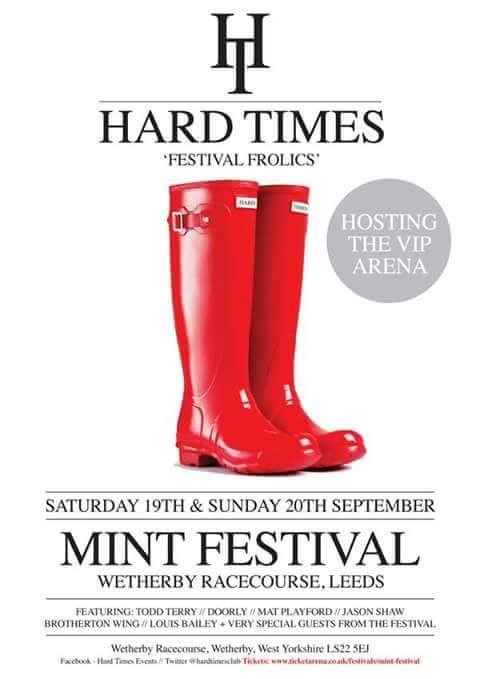 We were then invited to do a live show for DJ Mag with Roger and our residents. This was another nice honour.
Now we arrive at 22 years were we celebrate in true Hard Times style this weekend.
Hard Times celebrates its 22nd birthday this weekend with Kenny Dope, Detroit Swindle, Robert Owens, CJ Mackintosh and Elliot Eastwick. www.mintwarehouse.com